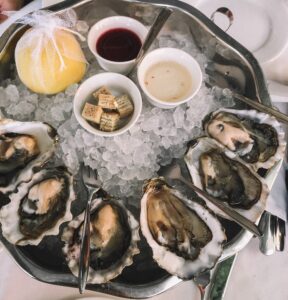 Oyster sauce doesn't just add taste, as it also engages your other senses. It glazes the food with a shiny layer that adds instant glam and appeal, in addition to the extra layers of texture that complement vegetables and meats to the nines.
So what if you don't have any in your pantry? Or you'd like to use a replacement that doesn't contain the shellfish ingredient? If you're asking "what can I use instead of oyster sauce?" then read on. The answer is right here!
How to Make a Substitute?
To make a plausible replacement, you'd need to replicate its taste, texture, and glossy finish.
This might be a bit of a challenge since it is traditionally made by slowly simmering oysters in salted water. The resulting broth is often rich, shiny, and has salty and sweet notes, in addition to distant hints of shellfish.
The commercially available brands don't exactly follow this lengthy procedure, and instead, contain oyster extract, cornstarch, salt, sugar, in addition to a caramel color and taste enhancement substances.
5 Perfect Substitutes for Oyster Sauce
Here are the best ways to replicate oyster sauce and accentuate your food with similarly rich flavors.
1.    Hoisin and Soy Sauce Mix
This mixture is a faithful replica of oyster sauce. It has the right texture and even the same glossy appearance. As for the taste, the salty soy sauce balances out the sweetness of the Hoisin sauce. Thus, reaching the understated flavor of oyster sauce, with only a few extra notes.
You simply need to add equal amounts of Hoisin and Soy sauces. You can use this mix as a 1:1 substitute.
2.    Mushroom Stir Fry Sauce
If you're not afraid of a bit more work, you can make your own vegan oyster sauce out of mushroom broth.
Simply dissolve one cube  in half a cup of boiling water, then add 2tbs of brown bean sauce and one of sugar. Bring the broth to a boil and add 1tsp of cornstarch dissolved in the same amount of water. When the sauce is thick enough, it's ready to use on your favorite recipe.
This concoction has many similarities with the commercial form of oyster sauce, and that's why it works so well.
The suggested ratio for this replacement is 1:1, which means you can use it as you would oyster sauce. This substitute works best with stir fry recipes, but you can also use it in other ways.
3.    Soy, Sugar, and Worcestershire Sauce Mix
Soy alone would never replace oyster sauce. That's because of the significant difference in taste and texture. That's why adding some brown sugar and a few dashes of Worcestershire sauce would bring it closer to oyster sauce. At least where taste is concerned.
Mix in two plump tablespoons of brown sugar with a quarter cup of soy sauce, then add a few drops of worcestershire sauce. Don't overindulge with this mixture, or it would overpower your meal. A 30-50% conversion is sufficient. You can use it for regular cooking and as a light dip.
4.     Hoisin Sauce
This is a bit of a stretch since Hoisin sauce has a much more prevalent taste. It also has a thicker consistency and lacks the glaze. However, it wouldn't clash too much with any application that requires a bit of oyster sauce. If anything, it would add a few more layers of flavor.
Use a 1:1 ratio here. This is best used with stir-fries and dips.
5.    Indonesian Kecap Manis
This Asian condiment is made mainly from soy sauce and plum sugar. It's salty, sweet, and has a rich texture.
It's a bit more sticky and sugary, so it's best to use 50% of the oyster sauce volume you'd normally use. The best way to use Kecap Manis is in marinades, roasts, and to some extent with stir-fries.
In Conclusion
That was the full answer to your question "what can I use instead of oyster sauce?".
You can use any of the listed substitutes for oyster sauce. And remember that some of them would replicate the taste more, while others would replicate the texture more.