A can opener with knife sharpener is quite a necessary gadget that everyone should have in their kitchen, especially if you consume canned food regularly.
In that case, having an electric can opener would be an even better idea because not only will it spare you the effort and time, but some of them will also have multiple features, such as having a can opener and a knife sharpener. If you're looking for the best can opener with a knife sharpener on the market, you're in for a treat!
In today's article, we'll provide you with quick reviews of the top 5 options on the market, along with a brief guide to help you pick the ideal one for your needs. Let's hop in!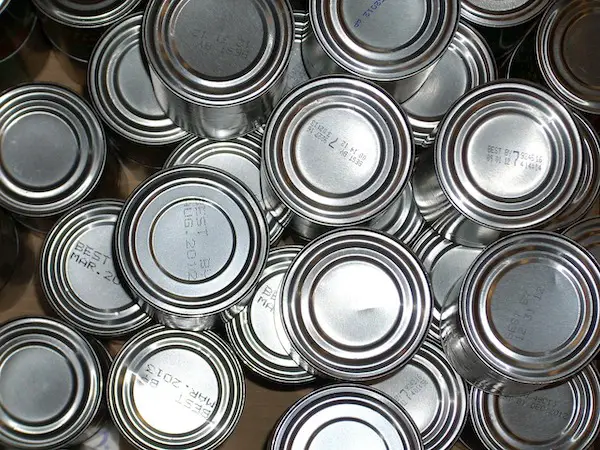 The 5 Best Can Openers with Knife Sharpeners on the Market
1. Hamilton Beach Classic Chrome Heavyweight Electric Can Opener
Starting off with the Hamilton Beach Classic Electric Can Opener, which is one of the all-around best options on the market due to its excellent balance between functionality, features, and price!
The blade has a patented SureCut design that ensures a successful can opening every time you use it. It cuts on the inside edge rather than the outside, which makes it a lot safer to remove the can lids when they're done!
The knife sharpener is found at the groove in the back of the device. It's made of quality white ceramic. The design allows you to sharpen blades of small and medium knives efficiently.
Moreover, it comes with a cord storage compartment right beneath it for added convenience and keeping your counter clutter-free. Keep in mind that Hamilton Beach offers another model that looks quite similar to this one, but it lacks a knife sharpener.
Pros
Tall design to fit a variety of can sizes and dimensions
Automatic shut-off timer and a strong holding magnet for a hands-free operation
Removable and dishwasher-safe cutting unit 
Cons
Lacks a jar opener feature
2. Kenwood CAP70.A0SI 3-in-1 Can Opener with a Knife Sharpener + Bottle Opener
What's unique about the Kenwood CAP70.A0SI is that it's a highly versatile can opener that does three functions, saving you counter space and money.
In addition to having a built-in knife sharpener, it also has a bottle opener that will make your life in the kitchen a lot easier!
The can opener is also quite hands-free, as it has a strong magnet that spares you from holding small and medium-sized cans while operating.
Moreover, the machine shuts itself off automatically after finishing its job, which is great for both safety and efficiency.
Pros
Versatile and sleek design 
Equipped with a lid retaining magnet for a safe disposal
Has an automatic shut-off feature 
Cons
A bit pricey compared to other options
3. POHL SCHMITT Electric Can Opener
If you're looking for a can opener that is all about durability and handling large cans, you should consider this electric can opener from POHL SCHMITT.
One of the first things we noticed and liked about this model is that it has an extra tall build with a remarkable height of 10.31 inches.
This allows you to use it with a wide range of can sizes. The can opener also has a wide base, which helps it stay stable while operating.
The cutting unit on this can opener is also easy to remove, so you can take it off and give it a quick rinse without any problems.
In addition to opening cans, it also has an integrated knife sharpener as well as a pop-top can opener, to save you nail pain! The sideways knife opener on this model is a huge plus because it feels more natural to the hand!
The unit's blade is also made of premium stainless steel rather than chrome coating, which enhances its longevity and sturdiness.
Pros
Highly durable and easy to clean cutting blade
Ergonomic knife sharpener design
Hidden power cord storage for a clutter-free design
Cons
The motor makes a bit of noise
4. Proctor Silex Power Electric Automatic Can Opener
If you're tight on budget but still open a lot of cans and would like to invest in a decent can opener, you might want to consider this one from Proctor Silex.
This one has a stainless steel cutting unit that is removable and easy to wash. It also doubles as a knife sharpener with a sideway design that makes it much more comfortable to use.
Additionally, the can opener exists in both white and black, which allows it to match your kitchen design. The black color also doesn't leave fingerprints, which is a nice touch.
Pros
Ideal for buyers on a strict budget
Available in black and white
Has an easy can-aligning system to fit various cans
Cons
The machine has a weak grip on relatively large cans, so it may require manual assistance
5. BLACK+DECKER EC475W Extra-Tall Electric Can Opener
Last but not least, the EC475W electric can opener from Black+Decker offers a variety of great features all the while coming at a decently affordable price.
The can opener features a removable cutting unit that you can easily rinse and dry between uses to keep it clean
It also functions as a knife sharpener with an excellent sharpening angle to suit both right and left-handed users.
Moreover, it can also function as a popup and bottle lid opener, which is great for easy open cans that come with stiff and painful lid rings.
Pros
A reasonable price tag for its features
The sharpener design is great for both left and right-handed users
Functions as a popup lid opener, bottle opener, and a knife sharpener
Cons
The body is made of plastic, so it might be too lightweight for heavy cans
What to Look for While Shopping for a Can Opener with a Knife Sharpener
There are plenty of can openers on the market, which can make it quite tricky to pick the ideal one for your needs.
To help you make the most educated decision, here's a brief overview of some of the most essential aspects that you need to consider while buying a can opener with a knife sharpener:
Blade Material
The cutting blade is the cornerstone for any can opener. It doesn't matter that a can opener has a large build or is packed with features if it can't do its primary job.
Can opener blades are either made of chrome-plated steel or stainless steel. Of course, stainless steel is the superior option here because it's far more durable than chrome-plated steel.
Chrome-plated cutting assemblies will look shinier when you first buy them, but this luster will quickly fade away.
On the other hand, stainless steel will resist corrosion and won't tarnish with time like chrome. It also cleans up quickly, and most removable can openers are dishwasher safe. But more about this in the following sections.
Construction and Design
A can opener with a knife sharpener is almost always an electric one. Electric can openers will typically have an elongated construction with a wide base design that prevents them from tipping over as the center of gravity changes when the cans are attached for cutting.
Similar to the blade, you want the knife sharpener to have a durable construction that resists damage and corrosion.
Most can openers on the market are made of a blend of plastic and metal. Always make sure that you buy a tall can opener (higher than 7.5 inches) so that it can fit all kinds of cans.
Additionally, make sure that it has a compartment for the power cord to save space when the machine is not in use.
Hands-Free Operation
One of the main perks of having an electric can opener is that you won't have to waste time and effort cutting the metal lid off the can.
That's why most modern can openers will come with a magnetic platform that holds on the lid when it's cut off the can. While choosing a can opener, make sure that the magnet is powerful enough to hold larger lids.
Another hands-free related aspect is the shut-off timer. This one also doubles as a safety feature that will come in handy when you're busy in the kitchen.
Removable Cutting Unit
Cleaning the can opener between different types of cans is essential. That's why most can openers on the market will have a removable design to allow you to clean them.
The best models out there will design the cutting units so that they're dishwasher safe for extra convenience.
Knife Sharpeners & Other Features
Always look for can openers that come with a ceramic knife sharpener because they're long-lasting, easy to use, and efficient.
Some can openers will also boast other features, such as jar and bottle openers as well as pop-lid pullers.
Wrap Up
There you have it! A complete guide with everything you need to know about can openers so that you can buy the ideal one for your needs!
Ideally, we recommend the Hamilton Beach Classic Electric Can Opener as the overall best can opener because it balances between functionality and good pricing.
However, if you don't mind splurging a little more for a durable and super multifunctional alternative, you should go for Kenwood CAP70.A0SI 3-in-1 Can Opener.