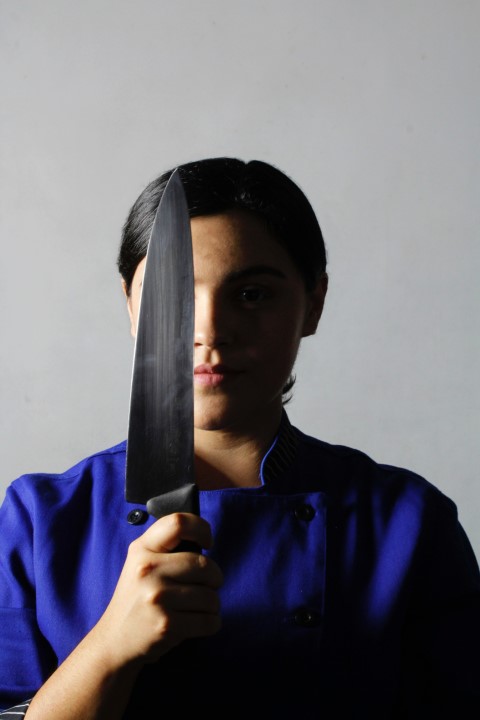 Knives play a big role in any kitchen. Are you a professional chef? Or just standing in your kitchen at home, slicing up some veggies? Either way, you can't get much done without knives. Problems start when the knife starts biting on the food you're cutting, rather than slicing straight through. You feel some resistance that you know wasn't there before.
When this happens, many people head for their knife sharpener. While that may be a viable option a couple of times during the year, the tool you should be using is a honing rod. Yet, what does a honing rod do, anyway? Well, that's what we're here to find out.
Today, it's all about this sword-like kitchen gadget. We gathered some of the best ceramic honing rods on the market. So, if you're serious about taking care of your knives, keep reading.
The Best Brands of Ceramic Honing Rods
Here are our five top choices for the best ceramic honing rods on the market. The best thing about ceramic is that it's sturdy and rust-resistant.
Ceramic rods shave off microscopic pieces of your knives. So, even though their main job is to hone blades, they also do a bit of sharpening as well.
All the honing rods on our list have two main features in common. Firstly, they have an ergonomic handle that fits comfortably in the palm of your hand.
The second common feature they share is that they all have a hanging loop at the end of the handle. This makes it easy to just hang it where you can easily access it.
These nifty tools will help maximize your knives' potential and keep them in tiptop shape. Check them out.
1. Noble Home and Chef Store Honing Rod: Top Pick
Noble Home and Chef Store is a prominent name when it comes to anything knife-related. Designed to take on years of use, this honing rod is one of their best. We especially like that it features two grit options. There's one side with 2000 grit for dull knives and a side with 3000 grit for giving knives that extra sharp sheen.
This 10.5-inch honing rod has a shock-absorbing tip. It protects the rod against drops, bumps, and impacts. It also helps balance the rod when you're using the vertical honing process.
Another unique feature is that the rod is magnetized. As you're honing, it picks up the tiny metal particles that fall off the blades and prevents you from inhaling these particles as you're working.  Plus, it keeps the work area nice and clean.
Pros
Shock-absorbing tip
Dishwasher safe
Two grit options
Budget-friendly price
Cons
2. Green Elephant Honing Rod: Runner-Up
The Green Elephant may be a funny name for a honing rod, but there's nothing funny about the way it gets the job done. It's the perfect size and balance and offers a comfy grip.
This 11-inch honing rod is made to last. It has a durable construction with shock-absorbing and shatter-proof properties.
Even though it's made from top-quality materials, it still manages to feel lightweight and easy to use.
There's a hanging loop at the end of the handle for easy storage. However, it doesn't come with a protective sleeve.
We like how the Green Elephant gets the blades realigned quickly. It features a grit size of 1500, which is more than enough to realign and straighten out any bent areas on the blades. Plus, it's safe to use daily without the risk of damaging knives.
Pros
Shatter-proof
Lightweight
Hones blades quickly
Affordable price
Cons
3. Idahone Fine Honing Rod: Best for Home Use
Idahone Fine honing rod is designed to hone blades quickly and efficiently, leaving them perfectly straight. This rod is durable and designed to withstand years of heavy use. It has a grit rating of 1200 to 1500 for a perfect realignment every time!
We like how this 12-inch rod is resistant to scratches and chipping. It makes the perfect tool for frequent use. In addition, it's the ideal balance and weight, which makes it safe and efficient.
The handle is another terrific feature. It's made from hard rock maple for maximum durability and comfort. There's also a hanging loop for easy accessibility and storage.
There is also a protective leather cover, but it's sold separately.
Pros
Solid hard rock maple handle
Resistant to chips, scratches, rust, and corrosion
Features a hanging loop for easy storage
Has the perfect balance and weight for safe use
Cons
Less affordable than other brands
4. Messermeister Honing Rod: Best Value
Messermeister is a leading manufacturer of cooking tools for professional and home cooks. Their products are durable and reliable, and this rod is no exception.
Its 1200 grit works great on any knife. We especially like its even surface and well-balanced design. It's durable yet lightweight, which offers you full control as you're working.
This 12-inch honing rod works quickly and efficiently. Plus, it's easy to clean and maintain. You don't have to wash it after each use, just wipe it with a damp cloth.
It comes with a plastic sleeve that protects the rod when you're not using it. There's also a hanging loop for easy storage.
Pros
Low-maintenance
Has an even surface
Comes with a plastic sleeve
Moderately priced
Cons
Some users claim it's not for heavy-duty use
5. Mac Knife Honing Rod: Best Quality
Made to last for years, this Mac Knife honing rod is made of top-quality materials. It's resistant to rust and corrosion, which means it's durable and low maintenance.
We like that it's sturdy, yet doesn't feel too heavy in your hand. This makes it easy to control to perfectly realign blades. The rod has a hanging loop for easy accessibility, but it doesn't come with a protective cover.
The 10.5-inch Mac Knife honing rod does a perfect job of realigning blades for a smooth, seamless cut. It boasts a surface of 2000-grit and you can safely use it daily.
Pros
Hones blades quickly
Solid construction
Rust and corrosion-resistant
2000-grit medium surface
Cons
It's not dishwasher safe
Pricey
What to Look for in a Honing Rod?
You've seen the five best ceramic honing rods available. Now, it's time to check out some of the features you should look out for when you're choosing a honing rod.
Length
This is the main decisive factor when shopping for a honing rod. The longer the runway, the easier it'll be to hone your knives. This is especially true for long knives.
A good rule to follow is to choose a honing rod that's about 2 inches longer than your longest knife. Having that extra bit of runway to work with will prevent constantly bumping against the work surface. It's especially useful if you use the vertical honing process.
Material
Honing rods are typically made of three different materials: stainless steel, ceramic, and diamond. The five rods on our list are all ceramic because it's the most efficient for daily honing. Not only that, but ceramics can sharpen the edge of the blade as well. Not as much as a knife sharpener, but you can feel the difference immediately. Ceramic is also gentle on the knife but gets real results. If you're used to honing frequently, you may not even need to truly sharpen your knives.
Handle
Using honing tools can be tiring on the hands. So, having an ergonomically designed handle means less hand fatigue. It also reduces the risk of damage or breakage.
Another feature to look for is a safety guard. With this feature, your fingers stay out of the way, reducing the risk of injuries.
Is There a Difference Between Honing and Sharpening Tools?
With time and constant use, knives become dull. Not only does the blade stop slicing, but it also gets out of alignment.
Each problem has a separate tool to fix it. You can sharpen dull blades and restore their former glory with a sharpening tool. Knife sharpeners are usually made from steel and give dull knives a brand-new edge. On average, you should sharpen your knives twice a year.
Meanwhile, honing rods are used to realign the edges of the blade. In other words, they make sure the blades go back to being straight for a smoother cut. You'll be surprised how much a honing rod can restore an old knife to its former glory.
How Often Should Knives be Honed?
Honing your knives can be done as often as you like. Professional chefs hone their knives several times during the day. For the rest of us, the average time to hone your knives should be after three uses.
Our Favorite Ceramic Honing Rod
Kitchen knives need regular maintenance to make sure they're always at their best. This is where honing rods come in.
After reading about the five best ceramic honing rods, do you have a favorite? We sure do!
Our top pick is the Noble Home and Chef Store Honing Rod. Its two grit options and high-quality materials make this rod one of the most reliable on the market. Plus, it's magnetized and comes with a shock-absorbent tip.
Looking for something designed specifically for home use? Opt for the 12-inch Idahone Fine Honing Rod. It's made from high-quality materials to ensure many years of use. It boasts a unique handle made of hard rock maple for added durability, as well as comfort.