In this article, we'll review the best leak proof stainless steel bento box in the market, as well as the 6 closest contenders.  We'll include a buying guide to help you pick your best option.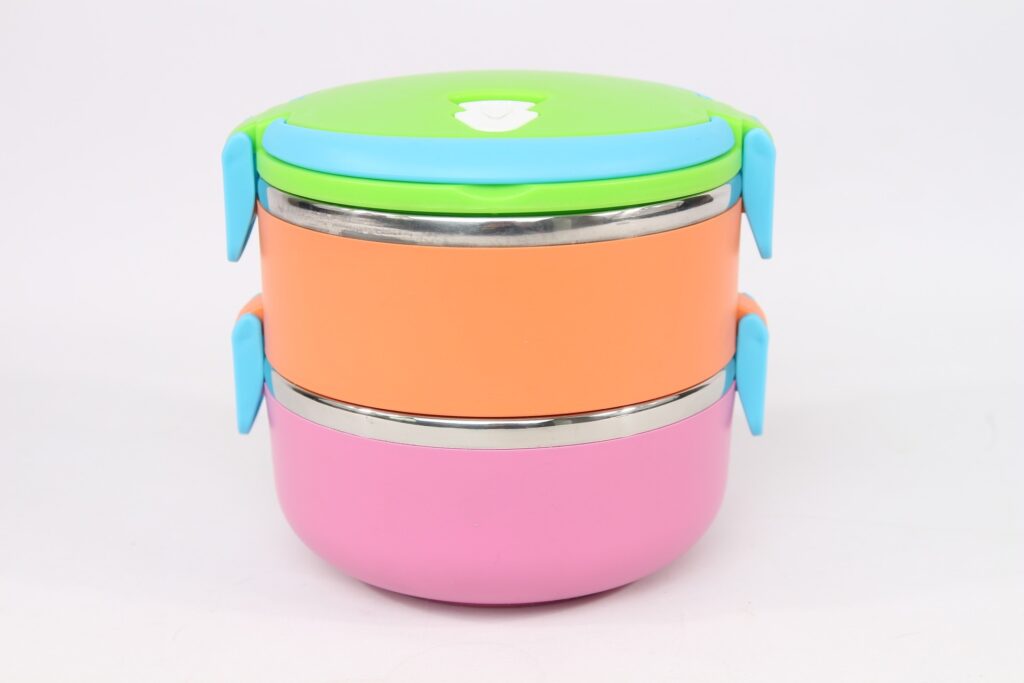 History and Uses
Did you know bento boxes trace back to the 12th century?
Yes, the Japanese folks were way ahead of their times! The boxes were meant to carry the dried rice, which the Japanese call Hoshi. Now, bento boxes are used everywhere to carry all kinds of meals.
A leak proof stainless steel bento box is the best way to organize your meals, so the dressings and the food don't blend together. No one would like to open their lunch box to find a yogurt-coated sandwich.
The 7 Best Leak Proof Stainless Steel Bento Boxes
We won't only offer you one or two options; we'll review seven different boxes, varying in prices and features, so you have enough options to choose from without limiting yourself.
1. BKLYN BENTO Stainless Steel Food Container – Best for Portion Control
If your daily diet demands strict portion control, the Bklyn Bento box may be the one for you. It's a set of four separate bento boxes with different sizes, suitable for different meals. You won't have to think about organizing your meal anymore; it'll be a breeze with this set.
The Bklyn Bento set is made entirely out of stainless steel without BPA, BPS, or any toxic elements. You can rest assured it's safe for your food. On top of that, all the containers come with leakproof lids that are easy to open. You won't have to break a nail or two trying to get to your lunch. The silicone molds are designed so that kids and adults can open them smoothly.
The silicone Bklyn uses for the lids is of the highest quality available. It doesn't contain any fillers, and it's highly durable.
The four containers can hold your lunch and one more meal. You can include sweets and snacks all you like, thanks to the separate boxes design.
There's one obvious downside to this set, and we believe you already caught it. The boxes are separate, so they're not exactly what you'd call compact. You'll have to free space in your bag for four boxes, which is quite a lot. However, the convenience makes up for it. At least you won't be opening your box to find everything molding together.
Specs
Colors: Silver with blue lids
Package Dimensions: 5.3 x 5.3 x 2.7 inches
Weight: 13.6 ounces
Age: kids and adults
Pros
The lids are easy to open
Excellent for portion control and different meals
Relatively affordable price
Cons
The set takes up a large space in bags
2. Clean Lunch'N Large Metal Bento Box – For the Whole Family
If you want a bento box that the whole family can use, this Clean Lunch'N box is your best bet. It's suitable for adults and kids, and it comes in a neutral silver color that suits both genders.
The box is divided into three compartments, separated by stainless steel sheets. The space is ideal for achieving portion control, and it's pretty sufficient for packing multiple meals. Additionally, the lack of separate containers makes it easier to clean the box. Not to mention it prevents wasted space.
The bento box is constructed from stainless steel without toxic materials, like BPA. Therefore, it's safe for food, and you can clean it in the dishwasher without a worry. No need to add to the items that you need to wash by hand!
Moreover, the Clean Lunch'N box is safe for storing in the freezer. You'll be able to keep your food cool and ready for your trip or work. Bear in mind that it doesn't go into the microwave, though, like all stainless steel containers.
Lastly, the bento box has a waterproof seal to avoid leaks. You can pack soft foods all you like, thanks to the silicone ring surrounding the lid.
Specs
Color: silver
Dimensions: 8 x 6 x 2.5 inches
Weight: 1.09 pounds
Age: adults and kids
Pros
Large capacity of 6 food cups
A free backup silicone ring is included in the purchase
Eco-friendly construction
Cons
There's a tiny open space between the compartments that may allow tiny food to escape
3. Bruce Liu Bento Lunch Box for Kid and Adults – Most Convenient
When it comes to convenience, the Bruce Liu bento box is hard to match. It sports a stackable design that provides more food capacity in a compact build. The boxes are made of PP on the outside with detachable stainless steel containers for food inside. Plus, you'll receive a spork with the purchase.
Each box has its own sealing cover to make sure nothing leaks. That way, you can carry the boxes separately if you want to.
The external boxes are safe for microwaves, which enables you to enjoy your food hot. All you'll have to do is move the food from the steel containers. Thanks to the leak-proof lids with rubber rings, you'll be able to carry salad dressings and soft foods without a worry. The food will stay fresh inside without leaking odors.
The rubber rings are removable, so you can clean them when it's time to.
The Bruce Liu boxes come with handles on the side, along with a large handle on the top for ease of carrying. The side handles are foldable to make storage easier.
Specs
Colors: Gray, green, pink
Package Dimensions: 8.03 x 5.71 x 5.67 inches
Weight: 1.58 pounds
Age: kids and adults
Pros
Affordable price
Compact build with a large food space
Each layer has a separate cover
Cons
A bit heavy for some users
4. Thousanday Store Stainless Steel Bento Box – Best Value for Money
If you're looking for aesthetic beauty, look no further; you won't find a lunch box prettier than the Thousanday. It comes in a blush pink color, topped off by a black lid that's adorned by a rose handle. The handle enables you to easily carry the box if you don't have a bag for it. The box is sleek, elegant, and pretty, aside from its functionality.
The Thousanday features three compartments. The largest one is meant for the main course, and the two smaller ones are ideal for salads and side snacks. This box is sufficient for a whole meal or multiple small ones, which is great for the price it comes with.
Upon purchase, you receive the box along with flatware for eating, so you don't need to carry anything to work other than the box. The lid is leakproof, enabling you to carry soft foods and liquids all you like. Bear in mind that the divider inside isn't leakproof, though, so you may find your dressing decorating your food.
The Thousanday is safe for dishwashers, but it's recommended to hand-wash the silicone lid to keep it durable for as long as possible. Moreover, the box keeps your food warm for a few hours. It won't be microwave-hot, but at least it won't go cold on you.
Specs
Colors: Pale pink and blue
Dimensions: 10.23 x 6.89 x 2.56 inches
Weight: 1.6 pounds
Age: adults
Pros
The cutlery space is suitable for probing your phone up while eating
Flatware is included in the purchase
Spacious enough for multiple meals
Cons
Some users complained it's a bit heavy for shoulder bags
5. Freshmage Stainless Stexel Bento Box for Adults & Kids – Largest Space
If you're a fan of pink, you'll definitely fall in love with this Freshmage bento box. Its color isn't its best feature, though. We'd say it's the brilliant three-layer stackable design that keeps the food separated inside. Not to mention that the three parallel boxes offer a large space for multiple meals. You can pack breakfast and lunch in this box, along with sweets or side plates.
If you want to pack soup or any other liquid, by all means, go for it. That's what the leakproof lid is here for!
The Freshmage boasts functionality and beauty in a harmonious design. Aside from the attractive pink color, the box has a capacity of 1300ml, which is quite impressive for the compact dimensions. The bottom layer is the largest, and the top one is the most shallow. The box is accompanied by flatware for eating, so you don't have to carry additional items.
For functionality, the outer boxes are made out of plastic, with stainless steel trays on the inside for the food. This brilliant design both keeps the food insulated and ensures you don't burn your hand if the container is hot.
One more thing to love about the Freshmage is the variety of options. The box is safe for freezers, microwaves, and dishwashers. For microwaving, move the food into the plastic container. Additionally, the silicone lid is better washed by hand to prevent deforming.
Specs
Colors: Pink
Package Dimensions: 5.7 x 7.7 x 3.9 inches
Weight: 1.3 pounds
Age: kids and adults
Pros
Stackable design to take less space
Plastic boxes with stainless steel trays for insulation
Large capacity to hold multiple meals
Cons
Some users reported it's smaller than it looks
6. Mr.Dakai Stackable Stainless Steel Lunch Box – Best Stackable Design
The bento box from Mr. Dakai is large, convenient, and stackable. It has everything you may be looking for in a portable lunch box, and it comes in a set of trendy colors. This box is made out of food-grade stainless steel with a PP shell, and it's divided into three compartments for different meals.
Each layer has its own sealing lid, so you ensure you're at no risk of leaks. Besides, you can ditch one or two layers whenever you need to, thanks to the smart detachable design.
Upon purchasing, you receive an insulated protective cover and a set of flatware with the box. The cover is made of durable oxford fabric, and it sports a waterproof polyester lining on the inside for better insulation. It also features a front pocket for the fork and spoon.
The box is sufficient for two large lunch meals for adults. Additionally, it's perfect for soups and salad dressings because of its leak-proof design.
If you don't like the round design, the company issues a similar squared one. However, the round box is more convenient for storage.
The only downside to this box is that it doesn't keep the food warm for long—only for 1–2 hours. On top of that, it's not safe for microwaving, so it's better for cold sandwiches, fruits, and similar meals.
Specs
Colors: Blue, rainbow
Package Dimensions: 6.5 x 6.5 x 7.6 inches
Weight: 1.43 pounds
Age: Adults
Pros
Easy to clean
A protective cover is included in the purchase
Large capacity
Cons
7. LunchBoss STEEBO-Stainless Steel BENTO Box – Most Durable
The LunchBoss bento box is an ideal choice for users who carry plenty of food. The portable lunch box comes bearing two boxes. The upper one is separated into two compartments, while the lower one isn't. The design enables you to carry three different types of food.
The box features a removable silicone handle, accounting for easy storage. It also comes with a bonus foldable spoon. All the box's parts are free of paraben and BPA, so you're sure your food isn't coming near any toxins. Plus, the box's build is highly durable, thanks to the top-notch stainless steel used.
Each stackable box has a heavy-duty silicone seal that keeps the food fresh and prevents leaks. Not only that, but it also keeps the odor inside. Moreover, the lids have a snap closing mechanism; they're durable and easy to open in case a kid will use the box.
The LunchBoss box only keeps the food hot for 2–3 hours, so it's better for carrying cold food. It's also not safe for microwaving. Aside from these downsides, it's one of the most convenient options on our list.
Spec
Color: Blue, pink
Package Dimensions: 8.62 x 6.06 x 5 inches
Weight: 1.39 pounds
Age: Kids and adults
Pros
The lock mechanism is easy to use
Free of paraben, lead, and BPA
Moderate price
Cons
Features to Consider When Buying a Portable Lunch Box
With so many options and different brands on the market, it's easy to get confused and make the wrong choice. Knowing which features to look for is your key to get the perfect box. Here's a roundup of the essential features to consider when buying a portable lunch box.
Capacity
Bento boxes are considered small compared to classic lunch boxes. However, you can easily land yourself a box with the right capacity for you. You just need to determine how much food you intend to carry and how many meals.
If you only pack a small meal or snack, you won't need a large capacity. People who have full lunches with side plates and snacks typically need large bento boxes with multiple compartments.
If you're buying a box for your kid, it's not recommended to get a big one, so he can easily carry it in his school bag.
You'll want to check the capacity and dimensions before buying. Make sure they both fulfill your needs and suit your work bag.
Functionality
The box's functionality is equally essential as its design. If your box is inconvenient for your usage, you'll have wasted your money.
For starters, a leakproof box is typically more functional because you get to pack soft food, dressings, and soups without a worry. Additionally, you may want to look for an insulated box. While insulation isn't vital, it's surely nice to have your food warm for hours. Bear in mind that it'll add to the cost, though.
Lastly, the box should be easy to clean, whether it's safe for the dishwasher or hand-washable. Of course, the dishwasher option is highly convenient because it'll save you the hassle of cleaning the box yourself. However, if it's hand-washable, make sure it's easy to clean without a lot of nooks and tiny grooves. The bigger the container is, the easier it is to clean.
Design
When the Japanese folks originally made bento boxes, they made them in rectangular shapes, mostly with round edges. Simplicity was their foremost concern, and they ensured their design fulfills it. Most of the options on the market are the same, but there are some trendy-shaped ones like the Mr.Dakai.
If you want a traditional box that'll suffice for your lunch meal, you may get one of the rectangular options that are flooding the market. On the other hand, if you want a different design, or you don't have enough space for a box, you can opt for the Mr. Dakai container or a round set like the Bklyn Bento.
There are also some boxes that come with flatware compartments, so you don't have to carry those separately. Moreover, some boxes are stackable, so you get a large food capacity but compact dimensions.
The designs are endless. As long as you know what you want, the choice will hopefully be easy.
Lid Design
Wasting five minutes of your lunchtime to open the bento box's lid isn't convenient. When picking your box, make sure its lid is easy to open and close. There are boxes with clasps on the sides. These usually fail and go loose after a while of using them. If they're made of plastic, there's a chance they'll break, too.
Airtight lids are ideal for easy closure. You'll be able to open them in an instant without breaking any nails. Moreover, double lids are excellent for protecting against leaks and keeping the smell inside. You wouldn't want your work bag to have the smell of an onion bagel.
Safety
If you tend to heat your food in the microwave during work hours, you'll need a box that's safe for it. All stainless steel boxes can't go into the microwave, but some boxes have plastic exteriors. You can move your food to the plastic containers and heat it. The Feshmage bento box is a great example of that.
Otherwise, you wouldn't be able to use the microwave. In that case, you can get an insulated box, so it keeps your food hot throughout the day.
Furthermore, when it comes to food safety, the material is vital to consider. Since we're only talking about stainless steel boxes here, ensure that your box of choice is 100% steel without any toxic elements, such as BPA.
Food Type
While the food type you'll pack isn't a feature of the bento box, it's critical to consider if you want to make the right choice. If the salad dressing is a constant part of your lunch, or if you pack soft food daily, you'll need a box with watertight dividers on the inside. Alternatively, you can buy a set with separate containers.
On the other hand, if you mostly pack dry food, such as sandwiches, veggies, fruits, and finger foods, you'll do well with any box, even if the insides aren't divided.
Lastly, if you want to pack soup with your lunch, it's preferable to get a box that has a separate leakproof compartment. That way, you're at no risk of spilling soup in your bag.
The Final Verdict
Our top pick for leakproof stainless steel bento boxes is the Mr Dakai. This bento box has everything a user could possibly ask for. It comes in trendy colors that'll look great on any desk, and its stackable design is brilliant for saving space and providing a large capacity for food.
You'll be able to pack multiple meals in this box, including soup and soft food, thanks to its leakproof lid.
If another box on our list fulfills your needs, by all means, go for it. All the choices are reliable and highly functional. You can choose from the different designs according to your usage and preference.
As long as you check all the previously mentioned features before buying, you'll do just fine!