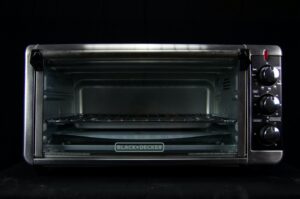 Ever wondered why you should consider investing in a toaster oven? While some people may be reluctant to buy this little buddy, those who tried it swear by how it took their food prep to the next level. But, what's the best toaster oven under $100?
In this article, we'll list our favorite toaster ovens so that you can find the perfect match for your needs. We'll also address the important features to think about before buying one.
Let's dive in!
Top 10 Toaster Ovens Under $100
Is it possible to get a high-performance toaster oven under only a hundred bucks?
The good news is, yes, you may enjoy countless features at such an affordable price. Just take a look at the following candidates, and you'll know what we're talking about.
1. Toshiba AC25CEW-BS 6-Slice Digital Toaster Oven
We're starting our reviews with this elegantly sleek toaster oven by the world-famous brand Toshiba. However, the admirable appearance isn't the only thing to note about this machine.
What everyone seemed to like about this oven is that its interior is huge. It can fit six slices of bread and anything else of a similar size. For instance, the oven accommodates a 12-inch pizza and even a whole 4-pound chicken.
Better yet, the oven grants you immense heat control with temperatures ranging from 150 to 400°F. As a result, you'll be able to prepare a wide range of toaster oven recipes without moving away from your countertop.
Plus, the oven is equipped with ten cooking settings to give you more freedom. With the user-friendly digital display and the easy-to-turn knobs, controlling this toaster should be a piece of cake.
Specifications
Temperature range: 150 to 400°F
Dimensions: 18.98 x 15.59 x 10.78 inches (6-slice)
Weight: 22.7 lbs
Pros
Easy to operate and control
Sturdy stainless steel housing
Comes with 10 cooking options to prepare daily meals
Clear digital display
Wide interior dimensions
Features a convection fan
Works in silence
Cons
It may be a bit awkward to clean the bottom crumb tray
Heavy
2. Mueller Austria 4-Slice Toaster Oven
When looking for a toaster own under 100$, here's another option if you wish to keep things more compact and simple. This toaster oven by Mueller Austria can be convenient for apartment dwellers who want to save some countertop space.
You could fit four slices of bread or a 9-inch pizza in this oven. While it might not be suitable for larger casseroles, a lot of people were fans of it all the same. They liked its performance, professional-looking build, and straightforward controls.
Sure, some didn't have a taste for the manual settings. Yet, others preferred them to digital options because they believed they caused fewer mistakes. In our opinion, it doesn't matter as long as you have full control over your kitchen appliance.
Here, you'll get three built-in functions, which are Bake, Broil, and Toast. So, if you're someone who won't rely heavily on a toaster oven to prepare huge meals, we suggest you check out this one.
Specifications
Temperature range: 150 to 400°F
Dimensions: 17 x 13.9 x 11.4 inches (4-slice)
Weight: 2.2 lbs
Pros
Takes minimum countertop space
3 cooking functions
Manual controls for easy operation
Comes with convection
Available with a 30-minute timer and auto shut-off feature
Well-built stainless steel housing for extra durability
Cons
The front glass panel tends to heat up pretty fast
3. King Chef 6-Slice Toaster Oven
Searching for a premium product to satisfy your culinary needs? If so, you may want to consider investing in this beast by King Chef. Let's take a look at what it can offer you.
First off, the oven has an outstanding power of 1,400 watts. This means better performance, faster cooking, accurate temperatures, and more.
The second thing we'd like you to know is that this oven includes many items to make cooking easier. These useful tools consist of a rotisserie lift, a rotisserie shaft, a grill rack that you can adjust in four positions, and a handle fork.
Along with the auto shut-off feature, this oven promises quality as well as safety. Who could ask for more?
Specifications
Temperature range: 100 to 450°F
Dimensions: 18 x 12.5 x 12.6 inches (6-slice)
Weight: 18 lbs
Pros
Immense power for faster meal preparation
120-minute timer
Features auto shut-off
Comes with many accessories for many types of cooking
Fits large items to let you cook a wide array of recipes
Cons
The glass door heats up quickly
Doesn't include a convection function
4. Hamilton Beach 6-Slice Countertop Toaster Oven
If you're looking for convenience more than anything else, the Hamilton Beach toaster oven is all we can recommend.
According to the majority of people who tried it, the best thing about this oven is the roll-top door. It can grant you easy access to your cooked or heated food. Plus, it's much safer since you'll get the hot door out of your way to grab your meal.
In addition, keeping the door up will eliminate any chances of spilling things on it. When you clean it up later, you'll find out that the door needs minimum effort to get shiny again.
As for the cooking functions, this oven offers Convection, Bake, Broil, and Toast. Also, the rack can stay in two levels to match your needs. You'll get a baking pan too, to make those cinnamon rolls you've been craving for a long time.
Controlling this toaster oven is manual, using contoured knobs. These knobs don't heat up, though, which promises a safer experience.
Specifications
Temperature range: 150 to 450°F
Dimensions: 15 x 18.5 x 9.5 inches (6-slice)
Weight: 11.5 lbs
Pros
Grants you easy access to your meals using the roll-top door
Comes with four cooking options to make a huge variety of recipes
Easy-to-grip knobs prevent slippage and ensure maximum control
Made especially for countertops
Cons
The internal fan might rattle a bit when in convection mode
5. Black+Decker TO1313SBD 4-Slice Toaster Oven
Here's another solid choice for those who want a compact toaster that can rest comfortably on their kitchen counter. This Black+Decker toaster oven has a lot to offer in terms of durability, performance, and more.
For starters, the machine comes with EvenToast technology. This tech is based on a uniquely designed interior for the even toasting of your bread.
You could also use the four cooking functions to cook a variety of meals. Users can bake, broil, toast, or keep their food warm inside this stainless steel oven.
Plus, the 30-minute timer may come in handy in many situations, ensuring that you don't leave the food inside the oven for too long. This feature has precise toast settings to give you perfect results each time for a delicious breakfast.
Last but not least, we couldn't help but like the easy-to-use manual controls. With only a few quick turns of a knob, you should be able to prepare a whole meal for your little family.
All in all, we think that this oven has great value for the price, not to mention that many users liked the way it works.
Specifications
Temperature range: 200 to 450°F
Dimensions: 11.18 x 15.47 x 8.3 inches (4-slice)
Weight: 5 lbs
Pros
One of the most lightweight toaster ovens on the market
Straightforward manual controls for more accuracy
Comes with 4 cooking functions to increase versatility
Countertop-friendly compact design
30-minute timer
Cons
Not suitable for making larger meals
Could use more insulation to prevent the heat from leaking outside
6. Black+Decker TO3250XSB 8-Slice Convection Countertop Toaster Oven
Now, if you want a toaster oven with more interior space, you may like this one, also by Black+Decker. This mighty beast has an extra-wide capacity, which can be a huge advantage to have if you're planning to rely on this oven to make all your meals.
The oven fits eight slices of bread, which is equal to 9'' x 13'' pans with handles. To make the picture even clearer, keep in mind that the oven can contain a 12-inch pizza. Pretty impressive, right?
Imagine everything you can do with this monster. You could bake cakes, make casseroles, broil, and more. Plus, with the help of the included baking pan, inserting and taking out your food has never been easier.
What's more to admire about this oven is the convection heating feature. This is when the internal fan works to distribute the heat evenly throughout the oven. Therefore, you should end up with successful baking results.
Finally, the oven comes with an accurate toaster timer and a 60-minute timer for long baking tasks. Isn't there a lot to admire about this machine?
Specifications
Temperature range: 250 to 450°F
Dimensions: 14.5 x 22 x 11.5 inches (8-slice)
Weight: 2.72 ounces
Pros
Lightweight design despite the large interior capacity
Perfect for making a wide range of recipes
Has the convection feature for easy baking
Manual controls are simple to use
Available with a toaster timer and a 60-minute timer
Durable stainless steel housing ensures a long life
Cons
A bit bulky
May be too loud to use at night, which could disturb any sleeping family members
7. Cuisinart TOB-1010 6-Slice Toaster Oven Broiler
This toaster oven by Cuisinart is one of the best choices if you're aiming for premium quality. Sure, it's the priciest on our list, but it comes with many awesome features you can't ignore.
For example, this beauty offers an incredible power of 1,800 watts to give you a professional-like experience. Along with its large six-slice capacity, you should soon find yourself depending on it to make a huge variety of meals.
Better yet, the oven is made of stainless steel to endure heavy-duty use. Not to mention that the front handle is cool to the touch, making your time at the kitchen as safe as possible.
What we also admired about this machine is its auto slide-out rack. This feature should leave no room for accidental burns, and it gives you easy access to your food. Plus, the crumb tray is removable by a front handle, which makes it a breeze to clean.
Overall, this Cuisinart toaster oven combines sturdiness, high performance, and admirable accuracy. According to many users, it can keep doing its job beautifully for years.
Specifications
Temperature range: 200 to 450°F
Dimensions: 16 x 18.5 x 10.75 inches (6-slice)
Weight: 15.14 lbs
Pros
Heavy-duty stainless steel housing for more longevity
Easy-to-grip knobs offer accurate manual control
The cool-touch handle ensures higher safety
You can use the oven to toast, bake, broil, and keep food warm
Simple to clean and keep in good shape
Cons
No convection feature
No timer
8. Hamilton Beach 4-Slice Countertop Toaster Oven & Pizza Maker
Here's another Hamilton Beach toaster oven to up your food prep game. Let's see what makes it a wonderful choice for small families.
First off, you should know that the door design is different from the other Hamilton Beach product that we've already reviewed. This buddy here has a door that you'll have to pull downward. Even though it's slightly less convenient, this point is by no means a drawback.
Secondly, we're fans of how energy-efficient this toaster oven is. According to the manufacturer, it uses 75% less energy than most ovens on the market. So, if you wish to save electricity and reduce your bill a notch, here's a good way to do it!
Also, the simple controls allow you a variety of cooking options. You'll be able to toast your bread, make dinner, bake delicious desserts, and more. Plus, there's a setting for reheating frozen foods, which can be a life-saver for busy people.
Quick, accurate, and versatile, there's a lot to like about this Hamilton Beach toaster oven.
Specifications
Temperature range: 150 to 450°F
Dimensions: 14.96 x 11.5 x 8.7 inches (4-slice)
Weight: 7.33 lbs
Pros
Energy and money-saving
Include Broil, Toast, and Bake functions
Stainless steel body for maximum durability
Features a 30-minute timer and auto shut-off for extra safety
Cons
Short power cord
No convection
9. Oster 6-Slice Toaster Oven
Ever just wanted to tell your friends that you own an Oster toaster? Well, here's your chance to make this joke and earn several eye-rolls. Besides this completely valid reason, there are many benefits to having this oven.
For starters, our friend here lets you use seven cooking functions, not just three or four. This way, you can rely on it to prepare the majority of your meals. Along with its huge interior, you might find yourself ditching your regular oven more often. Sorry, big guy.
The next thing a lot of users loved about this oven is its convection feature. The internal fan promises even heat distribution, which should keep your baking errors to the minimum.
Other things to appreciate about the Oster toaster oven include its digital controls, long 31-inch cord, and interior light.
Specifications
Temperature range: 150 to 450°F
Dimensions: 16.3 x 19.7 x 11.3 inches (6-slice)
Weight: 20.3 lbs
Pros
Features 7 cooking functions for more versatility
Equipped with convection technology
Wide internal space supports a multitude of different pan sizes
Long power cord for more freedom
Easy-to-use digital controls
Quiet convection fan
Cons
10. COMFEE 6-Slice Toaster Oven
We conclude our list with this solid toaster oven by Comfee. Delightfully, this machine has earned thousands of positive ratings on Amazon, which made us curious about it.
The first thing that grasped our attention is this toaster's sleek black exterior. Just picturing it on your countertop can give you a satisfying feeling about your kitchen's decor. Yet, looks aren't the only thing that makes this oven special.
The metal body can withstand daily, heavy-duty use to keep you company for years. Plus, the machine comes with premium control knobs for a firmer grip. As for the interior, you'll find that it's made of non-stick material so that you can wipe it clean in a few minutes.
The Comfee toaster oven has a lot to offer regarding convenience. First, it features a wide temperature range to let you cook various recipes. Also, you'll have four functions at your disposal, which are Bake, Broil, Toast, and Convection.
As you can see, this toaster has a balanced mixture of quality, durability, and an affordable price. So, it makes sense that many people swear by it.
Specifications
Temperature range: 150 to 450°F
Dimensions: 19 x 15.6 x 10.8 inches (6-slice)
Weight: 16.46 lbs
Pros
Easy manual controls
Heavy-duty steel body increases longevity
Extra-wide interior space can accommodate different sorts of food
Takes minimum counter space
Features a 60-minute timer
Effortless to clean
Cons
Some users found that the rack placement was either too high or too low for their liking
Things to Consider Before Buying a Toaster Oven
Now that we've listed our top products, it's time to choose your favorite. However, that isn't an easy task because there are so many factors to keep in mind.
In this section, we'll help you sort that out. Let's discuss everything you need to think to buy the perfect toaster oven for your needs.
Size and Capacity
As you've probably noticed, a toaster oven's capacity is measured in the number of bread slices that it can fit. You've got four, six, and even eight-slice ovens. So, how do you decide which one you'll need?
It's quite simple. A four-slice oven is great for someone who won't rely so much on it for food preparation. Besides, it only fits small baking pans, so it can be useful for cooking dinner for two or three people max.
On the other hand, a six-slice oven is larger, and it can suit the use of more family members. Plus, it allows you to make a whole 4-pound chicken in it.
If you're planning to do a lot of cooking using this machine, then you should consider investing in an eight-slice oven. Of course, it can be pricier than the previous two options, but it might just be worth the cost.
Also, make sure that the size of the oven is suitable for your counter space. You don't want to struggle every time you open its door, right?
Cooking Functions
The next most important thing to think about is how many cooking options that a toaster oven has. Most products allow you to toast, broil, and bake, which should be enough for the majority of users.
However, some toaster ovens have convection, and it's a huge plus if you ask us. This feature ensures that you get even baking or cooking, which should keep any hiccups to the minimum.
Therefore, the more functions you have, the easier and more efficient your time in the kitchen should be. Sure, the price will climb a little if you go for an oven with many settings, but you'll get what you pay for.
Other Features
Some aspects can make your cooking experience even more mistake-free.
For instance, a door that rolls to the top can prevent burns, and it grants you quick access to your food. Plus, a detachable tray makes it simpler to clean the interior of the oven.
Each product that you set your sight on could include a certain feature that makes it unique. So, take a moment to consider this before buying.
Once you find the perfect combination of price, capacity, and performance, you can go ahead and order Mr. Right.
The Bottom Line
Making up your mind about the best toaster oven under $100 shouldn't be a hard task after going through our list. Also, with the help of our buying guide, we hope your decision came to you quickly.
As for us, our top pick for the best toaster oven under $100 is the Hamilton Beach 6-Slice Countertop Toaster Oven. It's compact, lightweight, and spacious on the inside. Even better, it has an impressive performance that many people admire.
A more premium alternative would be the Cuisinart TOB-1010 6-Slice Toaster Oven. This guy has an incredible power of 1,800 watts. It's also durable and can do a fantastic job of cooking numerous meals.
Now, what about your favorite pick?