Looking to buy the best pocket sandwich maker to enjoy grilled goods quickly and easily? Then this article is for you.
Today, we're reviewing the top 5 pocket sandwich makers on the market and sharing a simple buying guide to help you make the right decision.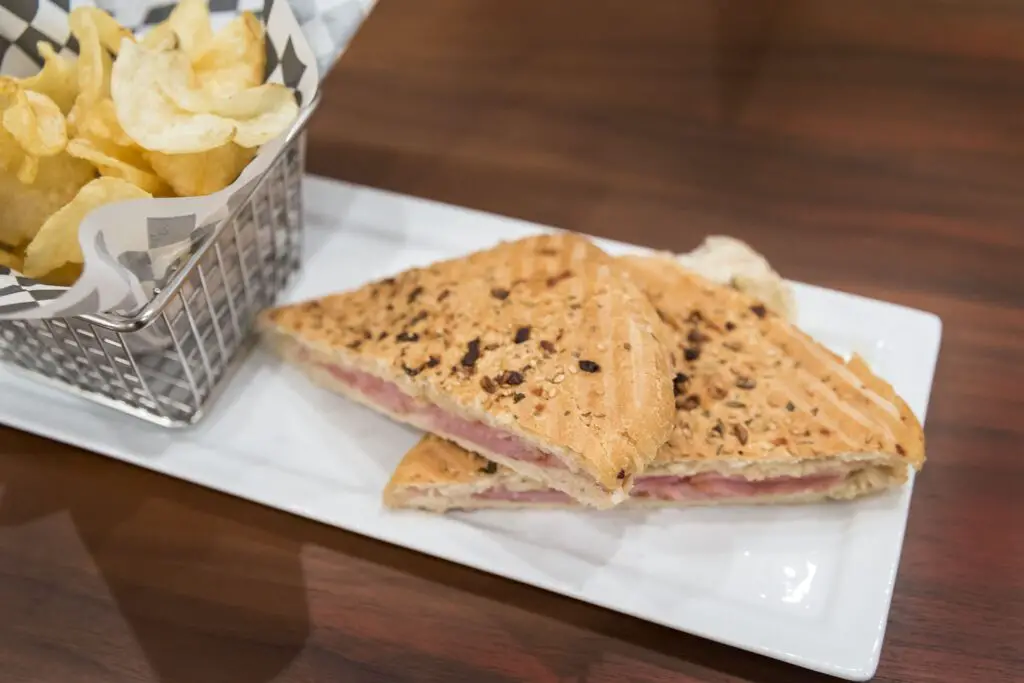 5 Best Pocket Sandwich Makers
1. Dash DMG001AQ Mini Maker Portable Grill Machine
They say that the best things come in small packages, the Dash DMG001AQ is proof. This grill may be small, but you can use it to prepare a variety of delicious grilled food from breakfast sandwiches to paninis and grilled steak.
It's equipped with a 4-inch cooking surface, but don't let the size fool you. This pocket sandwich runs on 350W of power, which makes it a performance beast. All you need to do is simply plug it in and you'll be ready to go in a couple of minutes.
The small 5 x 6 x 2.8 inches size of Mini Maker is a great advantage when it comes to portability, allowing you to easily pack it and take it almost anywhere. Not to mention, the PFOA-free non-stick grill plates save you the usual hassle of cleaning — just a couple of wipes and that's it.
The Dash Mini Maker is available in 6 different color choices, including pink, aqua, black, and red. cooking plates. This makes it an excellent option for gift giving.
What's more, the Dash Mini Maker is backed up with a 1-year limited warranty. It comes with a recipe book as well as access to a recipe database to help you get started.
Pros
Weighs only 1 pound
Easy to store and transport
Simple operation; just plug in and cook
The non-stick surfaces ensure effortless cleaning
Very affordable
1-year warranty
Cons
Can be messy to use
On the smaller side
2. Hamilton Beach Breakfast Sandwich Maker
If you're a fan of breakfast sandwiches, but you're fed up with buying them from fast food restaurants, chances are you're looking for a more healthy option. The Hamilton Beach Breakfast Sandwich Maker is built for exactly that reason, so it should be the perfect addition to your kitchen.
This handy machine allows you to make your own custom version of healthy breakfast sandwiches right from the comfort of your home. All you need to do is simply stack up the appliance with your choice of bread, eggs, precooked meat or cheese, and whatever else you prefer. Then, turn up the heat for a few minutes, and voila!
The Hamilton Beach Breakfast Sandwich Maker features two main cooking sections: the bottom one is where the first slice of bread goes along with other ingredients except eggs, while the upper section is the egg plate divider where you crack an egg and add the second slice of bread before closing the lid to let the sandwich cook.
From there, you want to allow the eggs to cook for about four to five minutes before sliding the egg plate divider out. After another minute or so, turn off the heat and open the lid to welcome your delicious breakfast sandwich.
You don't need to worry about cleaning since all removable parts on this pocket sandwich maker are dishwasher safe. The Hamilton Beach is available in 5 color options including coral, mint, and red.
Pros
All parts are removable and dishwasher safe
Allows you to customize sandwiches
Lets you add eggs to your sandwich conveniently
Compact design
Cons
If you move the plate divider before the egg has hardened, it'll leak down the edges
3. Cuisinart WM-SW2N Dual-Sandwich Nonstick Electric Grill
Cuisinart is a well-established brand in the world of kitchen appliances, known for making high-quality tools at reasonable prices. The WM-SW2N Dual-Sandwich Non-Stick Electric Grill is no exception.
First of all, the grill plate measures 9 x 9 x 3.5 inches and it's decided to make 2 sandwiches at a time. So if you've got a big family to feed on the go, the Cuisinart WM-SW2N can be very helpful.
This machine is also equipped with a handle lock that allows you to lock in your food to ensure even heating. There are indicator lights at the top to alert you when the machine is turned on and when it reaches a high enough temperature to cook your food properly.
Additionally, cleaning is a hassle-free task with this Cuisinart unit thanks to its non-stick surface. All it takes is a simple wipe down with a damp piece of cloth and wipe it down.
The Cuisinart WM-SW2N comes with a sleek-looking silver exterior that'll fit right in with the rest of the appliances on your kitchen's countertop.
Pros
Makes up to 2 sandwiches at a time
The lid locks down
Ready-to-cook and ready-to-eat indicator lights
Non-stick grill plate ensure
Cons
Heating can be a bit uneven
4. Brentwood TS-240B Compact Dual Sandwich Maker
Next up is the Brentwood TS-240B Compact Dual-Sandwich Maker. Available in a slick black color that adds a touch of elegance to your kitchen countertop, this machine is another option for folks looking to cook two sandwiches in one go.
It may look like an average pocket sandwich maker, but it has the necessary technology for reliable cooking. The no-frills operation makes it suitable for users including older kids and elders.
You just plug it in, wait for the preheat indicator to light up, then load the machine with ingredients of your favorite sandwich. After a few minutes, your delicious meal will be ready.
The Brentwood TS-240B can make two sandwiches at a time, giving them a diagonal indentation that you can easily cut through. There's also a cool-touch handle so you can safely open, close, and move the unit.
The non-stick plates help you remove the sandwiches easily and clean up the appliance without too much trouble.
Additionally, the safety lock on the lid supports more convenient storage. It helps that you can place it upright anywhere around the kitchen. There's even a cord wrap to keep everything neat.
Pros
Can cook up to 2 grilled sandwiches at a time
Features a cool-to-the-touch handle
Nonstick removable plates
Has indicator lights
You can store it upright
Comes with a cord wrap
Cons
The top of the sandwich may not cook as much as the bottom
Doesn't lock when the sandwich is inside
5. MACONEE Microwave Sandwich Maker
If you've ever wished to make a toasted sandwich using only your microwave, it's time to make that dream come true! The MACONEE Microwave Sandwich Maker allows you to whip up delicious grilled sandwiches, vegetables, and even meat — all you need is a microwave.
Made of platinum silicone featuring non-stick aluminum plates, this unit is available in 2 sizes to give you flexibility for cooking a wide range of ingredients. It's also detachable and dishwasher safe so it's very easy to clean.
The silicone handles aren't just durable, but they're also cool-to-the-touch right out of the microwave. This means you don't need to worry about burning accidents, which makes it suitable for people of all ages to use.
ETL approved and free of BPA, the trays accelerate heat generated by the microwave radiation, significantly cutting down the grilling time for quick cooking. Toasting a sandwich the traditional way would typically take about 5 minutes, but with the MACONEE Microwave Sandwich Maker, you'd only have to wait for 3 minutes. 
Pros
No electric connections
Dishwasher safe, detachable components
Non-stick aluminum cooking plates
ELT approved and BPA free
Fast grilling
Cool-to-the-touch silicone handles
Cons
How to Choose the Best Pocket Sandwich Maker
When shopping for the best pocket sandwich maker, consider the following features to make sure you end up with the right product for your needs:
Cooking Surface
First, you should check the material cooking or grilling surface. The plate has to be non-stick, there's just a no better option.
Buying anything else would only frustrate you and waste your money. Just imagine waiting a few minutes for a grilled cheese sandwich, only to be unable to remove it from the grilling plate.
Be sure you get something free of PTFE and PFOA to ensure your safety. 
Size
Next, you should think about the way you're going to use the sandwich maker. If you just need it to toast a couple of sandwiches a day, then a single sandwich maker will probably do.
But if you plan to make sandwiches for the family or you intend to use the sandwich maker for grilling meat and vegetables, then you're better off buying a larger sandwich maker.
Power Rating
Finally, consider the power rating of your sandwich maker. This will determine the length of cooking. Generally, pocket sandwich makers have a power rating of 350W up to 1000W. Make a choice depending on how long you're willing to wait for food to cook.
Remember, however, that the higher the power rating, the more energy the machine will consume.
Wrap Up
Choosing the best pocket sandwich maker can be tricky, but it ultimately comes down to your needs and budget.
If you're looking for something very portable for camping trips or a small-sized family, then the Dash DMG001AQ Mini Maker Portable Grill Machine should suit you very well. But if you need a bigger unit, then we recommend the Cuisinart WM-SW2N Dual-Sandwich Nonstick Electric Grill.