When it comes to high-quality wooden cutting boards, acacia wood first comes to mind. Acacia wood cutting boards are prized for their durability, versatility, and self-healing properties, so it's no wonder they're dominating the cutting board market as of late.
This article lists five of the best acacia cutting boards you can buy today. I've also included a handy buyer's guide to lead you to the right purchase. Let's dive right in!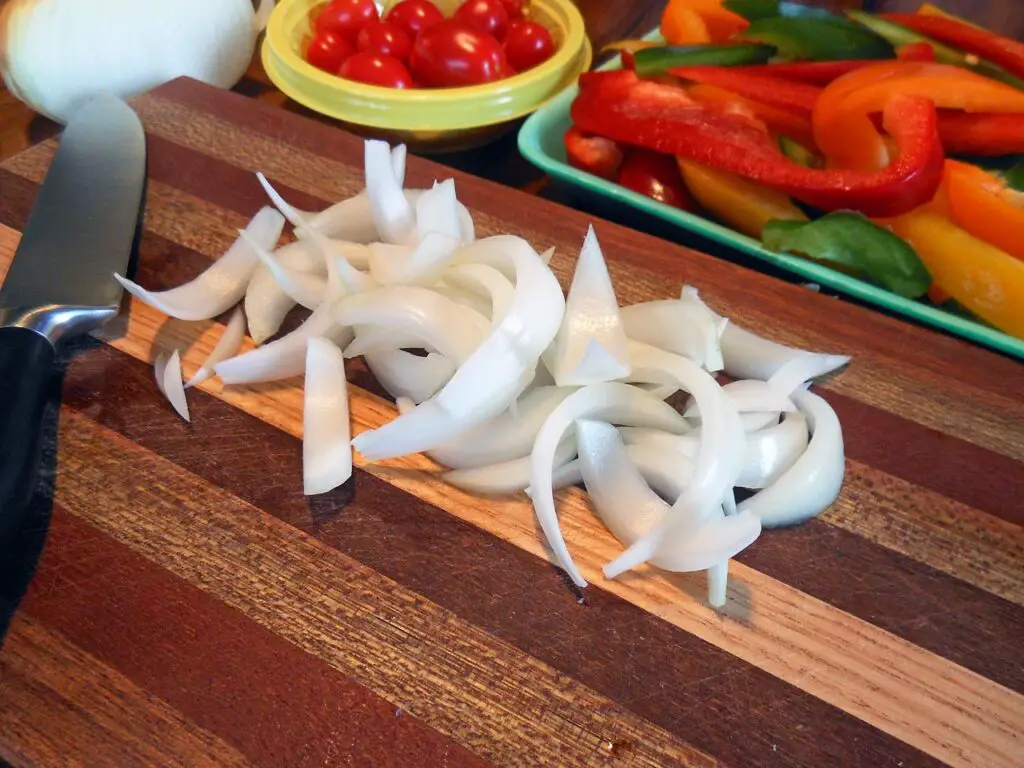 5 Best Cutting Boards Made From Acacia Wood For Your Kitchen 
Acacia wood is known for its strength and beauty. As follows are five of the best acacia wood cutting boards money can buy; individually chosen for their design, functionality, durability, and, of course, sustainability! 
1. Thirteen Chefs Villa Acacia Wood Cutting Board – Best Overall
With perhaps the most stunning finish of all the boards I've reviewed, the Villa Acacia Wood Cutting Board impresses in both functionality and appearance. It isn't the cheapest board on this list, but it's certainly one of the best; worth every penny spent, in my opinion. 
The Villa Acacia Cutting Board is quite large, measuring 24 x 18 inches. That's big enough to comfortably slice and dice a turkey, making it ideal for homeowners and professional chefs who prepare family-sized meals daily. 
Like most cutting boards on this list, the Villa is designed with a wide outer groove that prevents spills. Flip the board and you'll have a groove-less, flat surface for serving cheeses, fruits, and meats. 
The Villa is sustainably sourced and 100% handcrafted. Each board comes with its very own accents, patterns, and character–making it a truly unique addition to your kitchen. 
Pros 
Deep wells to catch juices
Large enough for giant roasts 
Double-sided design
Professional-grade quality
Cons
2. The Blue Oak Acacia Wood Cutting Board – Runner Up 
Chosen for its elegance and versatility, The Blue Oak Acacia cutting board is luxury personified. Not only is it designed for chopping and prepping, but is also made for entertaining, too. The juice groove side is cutting while the flat reverse side for serving cheeses, meats, and fruits. It makes for a gorgeous cheese and charcuterie board! 
Measuring 1.4 inches thick, this butcher block style board is designed with built-in recessed handles for effortless maneuverability when carrying, lifting, or serving. 
The deep grooves catch excess liquid while you're chopping juicy fruits, veggies, and meats. On top of that, it comes with an integrated pouring spout for minimal clean-up and neat disposal. 
Compared to edge grain chopping boards, this end grain board is gentler on knives and more durable. Best of all, the wood used is responsibly sourced!
Pros 
Multi-purpose design
Sustainably sourced wood 
Solid construction 
Cons 
Heavier than most cutting boards 
3. Sonder Los Angeles Sustainable Acacia Wood Cutting Board – Best Flexible
The Sonder Los Angeles Acacia Wood Cutting Board is impressively well-made. Designed with deep juice grooves and perfectly sized inner handles, this acacia cutting board is thick, solid, and elegant. 
Measuring 16 x 12 x 1.5 inches, the Sonder Los Angeles board falls between medium and large. Its thick size contributes to its stability and durability, so expect this board to last you years. On top of that, it's reversible, meaning you can use either side during food preparations. Once one side is all scratched up, simply flip the board and you've got a brand new chopper! 
The Los Angeles Acacia Wood Cutting Board is eco-friendly and responsibly sustained. Beautiful, sturdy, and affordable–what more can you ask? 
Pros 
Attractive design
Double-sided use  
Multi-purpose groove
Cons
Doesn't heal as well as end grain cutting boards
4. Ironwood Gourmet Acacia Wood Cutting Board – Best End Grain Cutting Board
Founded in 2000, Ironwood Gourmet is one of the first companies in the US that used acacia wood on its kitchen accessories. I own several of their products myself, and I've long admired their attention to detail and quality. 
The Ironwood Gourmet Acacia Wood Cutting Board is undoubtedly one of the prettiest I've seen. It looks like it belongs to an art exhibit rather than a kitchen table! 
If you're fond of serving sushi, cheese, and charcuterie, get yourself an Ironwood Gourmet cutting board. It's perfect for displaying food and showing off!
This acacia cutting board doesn't disappoint in design and functionality, either. It's durable, reversible, and sturdy, everything a great cutting board needs to be. The outer groove holds 10 fluid ounces, keeping your countertop free of spills and messes. 
Pros 
End grain design makes it more durable than edge grain boards
Stylish appearance 
Readily takes on deeper scratches 
Cons
Relatively expensive 
No handles
5. Caperci Acacia Wood Cutting Board – Best Budget-Friendly Pick
The Caperci Acacia Cutting Board costs about half the price of the above-mentioned premium boards without compromising quality. It's a great budget-friendly alternative for those who are hesitant to pay above $50 for a cutting board. 
Unlike other boards of the same price, the Capeci is made with 100% premium acacia wood that's certified by the Forest Stewardship Council. More importantly, it's not only functional but beautiful as well, making it great for chopping, prepping, and serving. 
The Capeci board is available in two sizes: 18 x 12 inches and 20 x 14 inches. Despite its large size, it's surprisingly lightweight at only 3.8 pounds. 
Pros 
Multiple size options
Lightweight design
Thin yet sturdy
Cons
Doesn't have a handle 
Not the most durable surface
What to Look For in an Wood Cutting Board
Apart from the price itself, there are several other factors to consider when buying an acacia wood cutting board. An acacia wood cutting board isn't cheap, so this buyer's guide will help you choose the right board that fits your kitchen needs.
Size
First things first: size. Like every cutting board, acacia cutting boards come in a variety of sizes. The width, length, and thickness of the board depend on several factors, such as your cooking style, your available kitchen space, your family size, and, of course, your personal preference. Are you planning to use the board at home, or work (restaurant, bar, etc)?
The cutting board you're buying should provide you with enough space to chop and cut the required ingredients. It should also fit your prep space comfortably; not too large, not too small. 
Keep in mind that the larger the board, the more storage space is required. Therefore, if your kitchen space is limited, you might want to go for a smaller cutting board. If you have ample kitchen and storage space, a wider model is something to consider. 
The standard cutting board sizes are as follows: 
Small – 8 x 10 inches
Medium -10 x 14 inches
Large -18 x 24 inches
Extra large – 20 x 30 inches
If you cook a lot and don't mind sacrificing a bit of kitchen storage, why not buy more than one cutting board? 
For instance, a small one for quick jobs like slicing fruit and cheese, a medium one for chopping vegetables and meat, and a large one for cutting up winter squash, pumpkin, and a whole chicken! 
Handle
What type of handle do you want your cutting board to have? Would you like it to have an integrated handle on both sides, or would you rather have it equipped with a single long handle?
A cutting board's handle type is entirely up to your personal preference and comfort. No matter what handle design you choose, it shouldn't be slippery or uncomfortable to grip.
Plus points if the handle is ergonomic!
On the other hand, some people prefer cutting boards without handles. Although they're useful for hanging or quick grabbing, some find them to be a bit of a nuisance.
Grain
Grain or wood grain refers to the pattern of fibers seen on the board's wooden surface. Acacia board grains usually come in three options: face grain, edge grain, and end grain. 
Face Grain
Face grain cutting boards are ideal for light cutting. They're usually thinner by design, making them prone to warping and knife marks.
While often the most aesthetically pleasing among the three, face grain cutting boards aren't recommended for heavy chopping use. Instead, they're best used for cutting small fruit and serving cheese and bread.
Edge Grain
Edge grain cutting boards are made by laying thin strips of edge wood side-side and grafted together. They're much tougher than face grain cutting boards and require less upkeep than end grain cutting boards because they're more moisture-resistant. 
However, edge grain boards are more susceptible to blade scarring because the board's fibers don't provide much give or protection against the knife's blade. 
Nonetheless, edge grain cutting boards are a global favorite because they're durable and affordable. 
End Grain
End grain cutting boards are made by combining cross-section pieces of wood. They're thicker than the average cutting board but also much stronger. 
On top of that, they're more resilient than edge grain boards due to their fast healing abilities. They're gentler on knives, too; primarily because end, grain fibers have more give.
The only disadvantage of end grain cutting boards is that they require more maintenance than edge grain boards. 
Keep in mind that edge grain boards are more susceptible to moisture, which therefore increases their risk of house bacteria. Without proper care, the board's seams may come apart and develop tiny cracks. 
End grain cutting boards are the most expensive of the three because they take more effort to construct. 
Design
Do you want your board to have a grooved surface or a smooth, flat one? Do you want it to be circular, square, or rectangular?
Grooved cutting boards are ideal for cutting juicy ingredients, while flat cutting boards are best suited for dry ingredients.
On the topic of design, some acacia cutting boards are reversible. This means that you can use either side of the cutting board as you wish. Some boards are also equipped with non-slip feet or corners to prevent the board from slipping as you cut.
If you're planning to use your boards in a professional setting, you might find boards with ruler-like measurements especially useful. This design allows you to prep your food in an extremely consistent manner.
How to Care for Your Cutting Board 
If you want to preserve and extend the life of your wooden cutting board, regular maintenance is necessary. Wooden boards, particularly acacia wood boards, are the best choice for maintaining the sharpness of your knife. Plus, they look stunning!
With proper care, expect your board to last anywhere between five to ten years. 
Here are some acacia wood cutting board care tips to follow: 
Never put the board into the dishwasher. Excessive heat and water may wrap and splinter the wood. 
Don't soak or dunk the acacia wood cutting board in water as it may absorb the liquid. This is especially true if you own an end grain board. 
Don't use bleach or harsh chemicals to clean your board as this may stain and dry the wood. 
Manually clean your cutting board with warm soapy water after every use. Make sure it's thoroughly dry before storing it away. 
Depending on how often you use your board, oil it once every two weeks to four weeks. 
As much as possible, use cutting board oils and creams when oiling your board. Board oil penetrates and saturates wood fibers better than regular oil. 
Be generous with the oil/cream application, especially if you haven't oiled your board in a while.  
Never use your hands to spread the oil as it may lead to accidental splinters. Instead, use a small bar towel or paintbrush. 
Sit your cutting board on a wire rack or upright when drying. 
Wrap Up 
Acacia is one of my favorite cutting board woods. It's harder than maple and oak, and it doesn't lose its gorgeous luster even after repeated polishes. 
My pick for the best acacia wood cutting board is the Thirteen Chefs Villa Acacia Wood Cutting Board. It's durable, large, and meticulously handcrafted. 
The Caperci Acacia Wood Cutting Board is a great budget-friendly alternative. It isn't as durable as the Villa, but it's sturdy and holds its weight with the rest of the premium boards on this list.