There is no joy in eating a warm meal gone cold or a cold drink when it's already warmed up by the outdoor heat. To make sure that your food and beverages are preserved in the ideal temperature, you need an insulated lunch bag. To help you with the process of finding the ideal one for your needs, we will review 5 of the best insulated lunch bags on the market. So without further ado, let's dive in!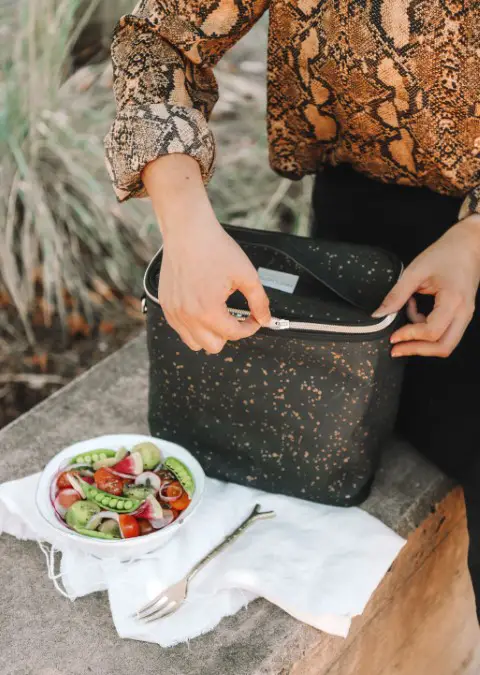 Top 5 Insulated Lunch Bags Available on the Market
1. LOKASS Insulated Lunch Bag
We're kicking off the list with one of the best insulated lunch bags on the market. The LOKASS insulated bag is made of high-quality materials, such as aluminum foil lining, nylon exterior and thick linen handles. The excellent lining allows the food to stay warm or cold for up to 6.5 hours. Moreover, the smooth aluminum foil is easy to wipe clean and won't cling to any odors from the food! Moreover, a middle foam layer enhances the preservation of food inside while offering additional protection against shocks.
The bag is designed to be spacious and is capable of storing 2 lunch boxes and 2 beverage cans. The zippers on the bag are remarkably durable and won't jam. They also allow the bag to open widely, so you can easily take out bulky containers horizontally! The bag is available in a huge variety of stylish designs, making it suitable for any style.
The only downside with this bag is that it is noticeably heavier than other bags, even when it's empty.
Pros
Excellent construction for durability and style
Available in a variety of designs
Opens widely for easy usage
Cons
A bit heavy for a bag with no shoulder strap
2. MIER Insulated Lunch Bag for Men & Women
For picnics and family outdoor trips, you might need a double-deck lunch bag. In that case, you should consider the MIER lunch bag!
The bag is separated into two bags using the zipper in the middle. Both compartments are easy to reach and the bag opens widely, especially at the bottom.
The bag is designed so that the bottom compartment is the cold one while the top is for warmer food. This makes it excellent for holding up both warm and cold food and enjoying both of them!
The exterior of the bag is made of waterproof polyester and the middle layer is made of food-grade EVA foam, which protects and insulates food.
We like that the bag comes with additional side and front pockets where you can also store some of your belongings, which saves you the hassle of carrying around additional bags!
Pros
Allows you to carry both cold and hot food without affecting each other
Features a detachable shoulder strap for easy handling
Comes in two different sizes
Cons
The polyester exterior is a bit flimsy over time
3. MAZFORCE Original Insulated Lunch Bag
MAZFORCE lunch bag is designed so that it offers the highest level of space efficiency there is!
The bag interior is lined with a high quality yet slim layer of aluminum foil for the maximum level of preservation without wasting too much space! It also comes with zippers that open all the way up, allowing you to take out all food items stored without tilting or bending. The bag comes in a very sturdy construction with upgraded closure and tons of colors and designs to choose from.
Moreover, we like the large expandable mesh pocket that you can use to store a water bottle.
Pros
Space efficient design to store a lot while staying compact
Waterproof exterior
Sleek yet practical design
Cons
The bottle compartment is not insulated
4. Tiblue Insulated Lunch Bag
Tiblue is an insulated lunch bag that offers high quality for a remarkably affordable price, making it one of the greatest bang for your buck!
The bag is quite large with overall dimensions of 10 x 6.7 x 8 inches. It also features a 5 mm layer of EVA foam for protection and insulation as well as premium tarpaulin and polyester outer fabric. The large bag is divided into multiple compartments to allow you to separate specific items and maintain the temperature of hot and cold products. The double zippers in the bag are sturdy and long-lasting too!
Although the bag is available in a variety of colors, most of them are quite dark, so we hope Tiblue adds more colors soon.
Pros
Remarkably lightweight for its size
Features a carrying shoulder strap
Equipped with durable SBS zippers for longevity
Cons
Most color options are dark
5. VAGREEZ Insulated Lunch Bag
Despite looking as simple as a lunch bag gets, VARGEEZ lunch bag offers decent insulation with an interior lining made of aluminum foil that lasts for several years. Moreover, the exterior fabric is made of cationic cloth and the insulating material is made of expanded polyethylene foam. This means that the bag is waterproof and capable of keeping your food warm or cold as well as staying dry for hours.
VARGEEZ has been updating the design and technology of the bag since they first launched it back in 2016, which shows the brand's dedication to providing their customers with top-quality lunch bags.
However, what we wish for the next updates is for them to add D rings that allow attaching shoulder straps to the bag. As much as we like the minimalist approach on this bag, sometimes, it can be too annoying to carry around, especially if you have to hold other things as well.
Pros
Minimalistic yet trendy design
Ideal for buyers on a strict budget
Waterproof exterior fabric
Cons
Things to Keep in Mind While Shopping for Insulated Lunch Bags
Materials Used
The outer and inner materials in a lunch bag dictate the bag's durability and sturdiness. Nylon and linen fabrics are the most durable ones but they're quite pricey. On the other hand, high denier polyester is more affordable while offering decent durability, so they're more suitable for budget buyers.
Insulation Capabilities
Food-grade aluminum foil insulation is the gold standard in lunch bags. The thicker the layer, the higher the efficiency. Ideally, you should look for a bag that offers 4 to 6 hours of insulation for hot food and drinks and 6 to 8 hours for cold ones.
Bag Size
A larger bag doesn't necessarily mean it's better. In fact, the more compact the bag, the more insulating and less hassle of a carry it'll be. Also, large dimensions aren't enough to determine the inner space efficiency. For that reason, you should also check the inner capacity in liters and see how much the bag can fit.
Compartment Organization
In addition to the main compartment of the bag, you need to make sure that it contains at least one extra pocket where you can store your belongings. This pocket is suitable for things like your smartphone, your wallet, your keys, or more, and it can save you the hassle of carrying a separate bag for these items!
Leakage and Water Resistance
Since you might want to store other items in pockets, you should make sure that the lunch bags aren't only insulated, but also leak-free, especially in case of spills and accidents.
Best Brands for Insulated Lunch Bags
There are plenty of insulated lunch bag brands on the market. However, when it comes to the absolute best, 3 brands top the charts. Let's have a brief overview of each one of them:
MIER Sports
MIER Sports is one of the most successful sports equipment and gear manufacturers on the market. Although they specialize in all kinds of outdoor gear, they're exceptionally popular when it comes to insulated lunch bags. The company started in 2008 and they have produced multiple insulated lunch bag designs over the years.
LOKASS
LOKASS is a brand that specializes in making bags, such as laptop bags, diaper bags, briefcases, duffle bags, and more. One of the things that guarantee the quality of LOKASS bags is that all their products undergo a 12 steps testing program before being released into the market. The company's successful business model has earned them top spots in major chain stores and online markets all over the world.
MAZFORCE
They always say "If you do one thing, do it right", and that's exactly what MAZFORCE is all about! While other brands on the market may specialize in different types of products, MAZFORCE exclusively produces lunch bags at the highest quality! The company is known for its unique designs that are inspired by their origins in California, U.S.A.
Wrap Up
There you have it! A complete guide with all the information you need to know so you can find the best insulated lunch bags for your needs!
Ideally, a good insulated lunch bag must be made of durable materials and offer long-lasting insulation. For that reason, we've picked LOKASS Insulated Lunch Bag as the overall best option on the market.
However, if you're on a strict budget or you're looking for a minimalistic lunch bag that still offers decent insulation and protection to the bag, the VAGREEZ Insulated Lunch Bag will do the trick without making a dent in your wallet!