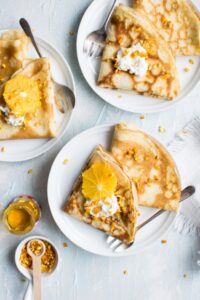 Crepes are so versatile. They can be filled with sweet fruits and jelly or some savory cheeses. Many are intimidated by making crepes at home due to sticking or ruining the batter mix. However, others have reported that it's easier than they thought once they've attempted it. Cuisinart makes many pan and skillet varieties, but what are the best Cuisinart crepe pans? And what's the benefit of buying a pan dedicated to making crepes as opposed to using a regular skillet? Let's find out what are the 4 best Cuisinart crepe pans in 2021.
Our Top Cuisinart Picks
Pans dedicated to crepes usually have little to no edges to help slide off the crepe. However, you can still use a regular non-stick skillet for your crepes and it would work just fine. We picked a combination of both kinds for you to choose the one that best suits your needs.
1. Cuisinart 623-24 Chef's Classic Crepe Pan
This is an old-school crepe pan. It's a 10-inch pan with a low rim to allow easy access for flipping the crepe. It's a non-stick hard-anodized aluminum pan, which means you shouldn't use high heat on it. However it does ensure easy washing when cool.
Its exterior is non-porous and hard-anodized for extra durability, while the interior is made of Cuisinart's patented Quantanium, which is a titanium-infused cooking surface that provides non-fat healthy cooking. Never use steel utensils on it to avoid scratching the surface.
The handle is made of stainless steel, which means it remains cool while cooking and allows you to safely place the entire pan in the oven.
The little edges may be a disadvantage if you plan on using this pan for things other than crepes. You may want to look at the other options below with larger rims.
Things We Like
Low edges for easier scooping
Non-stick
Stainless steel handle that stays cool
No plastic parts so it's oven safe
Things We don't
Use is limited due to shallow edges
Not induction-ready
2. Cuisinart 622-36H Chef's Classic Skillet
If you're not looking for a pan that exclusively cooks crepes, you may choose this more versatile skillet. The rims are big to contain large amounts of food and liquid during cooking, and the pan itself is a whopping 14 inches in diameter.
The exterior is hard-anodized and nonporous, while the interior is made of Cuisinart's signature Quantanium. This construction ensures even distribution of heat and eliminates hotspots that may overheat or burn your food.
The pan's handle is a sturdy riveted stainless steel one. The pan is also equipped with a helper handle to help you lift the skillet securely or give it a shake to mix things.
Cooking a crepe may be a bit less convenient in this skillet with the big rims, but you can easily manage to learn the method of swiftly sliding off your crepe with the help of a silicone utensil. In return, you get the great versatility of having a large skillet like this.
Things We Like
Practicality and versatility
Non-stick
Helper handle for secure lifting
The large size and high rims
Things We Don't
Expensive
A bit more difficult to deal with crepes
Not induction-compatible
3. Cuisinart 630-20 Chef's Classic Griddle
A griddle is used to cook several foods at once. You can make your crepe with the help of a crepe griddle set along with the rest of your breakfast items on one surface. This proves convenient to many people as they're able to quickly cook their breakfast with all items being ready and fresh simultaneously.
The griddle is also made from a hard-anodized exterior and a Quantanium interior. It has a square design with thin rims and measures 11 inches per side. The handle is stainless steel, which stays cool on top of stoves.
Things We Like
The versatility of cooking multiple foods at once
Short tapered rims
Good price point for value
Square shape perfect for use with crepe set
Things We Don't
Not induction-capable
Some have reported unexpected warping
4. Cuisinart 8" DS Induction Skillet
This skillet is for you if you have an induction stovetop. Its exterior is made of Cuisinart's Armorguard which makes it dishwasher safe. In addition, it has an Eterna interior which allows for non-stick, low-fat healthy cooking.
The skillet is equipped with a riveted, cast stainless steel handle that is designed to stay cool on top of the stove. It's also an oven-safe skillet up to 500 degrees F. Additionally, it is freezer-safe.
Although this skillet is quite small in diameter and has relatively large rims, it will give you unrivaled durability and compatibility.
Things We Like
Dishwasher, freezer, induction, and oven compatible
Eterna provides a durable non-stick cooking surface
Perfect heat distribution and easy washing
Things We Don't
Rims not ideal for cooking crepe
Size may be too small
Choosing The Right Pan for Crepes
Crepe cooking takes some getting-used-to due to the different factors in the process. For example, the thickness of your batter mix, or the amount of heat your stove supplies your pan. Here are the factors you should consider before choosing the right pan.
Rim Height
To slide off a thin crepe after cooking, short rims come really handy. However, it may be a bit challenging to master for the first few times. You can still use a regular skillet for the crepe and produce perfect ones, but it will be slightly less convenient.
Your level of cooking expertise may influenced your choice. If you're near chef level, griddles and dedicated crepe pans will be a great addition to your cookware. If you're looking for versatility, a regular skillet might be the way to go.
Heat Distribution
A crepe needs to be thin and cooked with even heat distribution. If you heat it for too long it may lose its ability to roll and become too brittle, and if you don't heat it enough the crepe will be too soft and taste raw.
Heat distribution is greatly influenced by your stove as well as your pan. An induction stovetop heats more evenly than regular stovetops.
Conclusion
These were the 4 Best Cuisinart Crepe Pans of 2021. The Cuisinart square griddle is our favorite choice. It provides you with a large cooking space that can be used to make a full breakfast in fun ways. This griddle, when coupled with the crepe griddle set will give you a lot of room for creativity.
The square griddle also gives you a great value for money and will help you take your cooking skills to the next level!