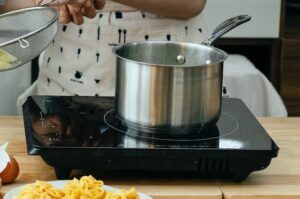 Whether you're going on a picnic, hiking, or camping, having a portable stove will be an excellent addition to your packing. It's also an excellent way to extend your household cooking abilities beyond your kitchen stove. In today's article, we'll walk you through a complete guide with everything you need to know so that you can get the best portable electric stove your money can buy!
Since portable electric stoves have a lot of purposes, there are tons of options on the market, and picking one of them might be a bit tricky. So without further ado, let's dive in!
Top 5 Portable Electric Stoves Available on the Market
To help you with the process of picking the best portable electric burner for your needs, we've scoured the market and picked these options as the market's best based on hundreds of users' experiences. Here's what each one of these portable electric stoves has to offer:
1. Techwood Hot Plate Electric Stove
Kicking off the list with one of the overall best portable electric stoves on the market, If you want an excellent level of control and power over your hot plate, you're going to love the Techwood Hot Plate electric stove.
This one is also available in both single and double stove heads. It has slightly more power than many electric stoves on the market, making it perfect for those who are planning to cook from scratch on their camping trips.
The burner has a sleek design and also uses a knob to control its heat level. Additionally, it has a display screen to adjust the timer of the stove, making it easier and more convenient to use.
Specifications and Features
Cord length: 36 inches
Dimensions:13.1 x 2.1 x 2.3 inches
Overall Weight: 12.5 lbs
Type: infrared or coil (single or double)
Temperature Range: 400 W to 2000 W
Wattage: 1,500 watts, 120 volts
Pros
Has a timer feature
Relatively more powerful than baseline portable electric stoves
Features a built-in fan for better heat distribution
Cons
The screen doesn't read out the temperature of the burner
2. Cusimax Portable Electric Stove
The Cusimax is an infrared single burner with balanced features and comes at a great price. It's more ideal for campers who prefer to pack light and would use the stove to warm up their meals.
The electric stove almost heats up instantly: in less than 10 seconds. This quick heating power is all thanks to its 1,200 watts, 120 volts system.
The burner has a heating surface of about 7.1 inches, which is large enough and compatible with almost all kinds of cookware.
The burner uses knob controls, which are straightforward and easy to control for anyone looking for a quick source of heat.
The heater weighs less than 4.25 lbs but can hold up to 22 lbs of weight and has highly portable dimensions of about 11.4 x 1.9 x 7.8 inches
Specifications and Features
Cord length: 40 inches
Dimensions: 11.4 x 1.9 x 7.8 inches
Overall Weight: 4.25 lbs
Type: infrared (single or double)
Temperature Range: 155 F to 1291 F
Power: 1,200 watts, 120 volts
Pros
Easy to use and clean
Highly portable and sleek design
Relatively affordable price
Comes with a 1.5-year warranty
Cons
No advanced features like temperature control and LED screens
3. Duxtop Portable Induction Electric Cooktop
If you prefer an induction electric stove over an infrared one, there are plenty of portable options on the market. However, the Duxtop might be the best one of them all.
This one uses a 15 amp electrical outlet to produce up to 1,800 watts, which allows the stove to heat up almost instantly as soon as you put your induction cookware on it. It fits a pan diameter from 3 inches and up to 7.5 inches
The stove comes with up to 20 different heat settings, that range from as low as 100 F and all the way up to 460 F, making it ideal for both cooking and warming food up.
The control panel of the cooktop uses buttons instead of knobs. The LCD screen also displays the heat level and the time left if you set the timer.
The coolest part about this stove is safety. It comes with a locking feature that prevents children from tampering with the burner settings. In addition to the single model, the portable electric stove is also available in a double version.
Specifications and Features
Cord length: 54 inches
Dimensions: 11.4 X 14.0 X 2.5 inches
Overall Weight: 5 lbs
Type: Induction (single and double)
Temperature Range: 100 F to 460 F
Wattage: 1,800 watts, 110/120 volts
Pros
Heats up almost instantly
Comes with easy to follow touch keys
Has a child safety locking button on the control panel
Cons
Will only work with special cookware with a magnetic base, such as stainless steel
4. Ovente Hot Plate Electric Countertop Coil Stove
If you're on a strict budget and looking for a simple and highly portable electric stove, the Ovente should do the trick!
This coil stove is one of the most affordable options on the market. However, that doesn't mean that it performs poorly!
The Ovente features a 6-inch coil and stainless steel frame that's highly durable and heats up fairly quickly.
It has an indicator light that will illuminate when the stove reaches the desired temperature. As you can see, it may require some vigilance on your end, but it's still a bargain for its price.
The stove comes with a US-based 1-year warranty, which adds a layer of security to your purchase.
Specifications and Features
Cord length: 36 inches
Dimensions: 9.7 x 9 x 3 inches
Overall Weight: 1.81 lbs
Type: coil (single)
Temperature Range: Up to 650 F
Wattage: 1,000 watts, 120 volts
Pros
Ideal for buyers on a strict budget
One of the lightest and most portable electric stoves on the market
Durable and easy to clean stainless steel construction
Cons
Might take a bit longer than other types to heat up
5. Cuisinart Cast-Iron Double Burner
Lastly, if you want a cast-iron double burner that is highly rated, inexpensive, and easy to pack, you might enjoy this one from Cuisinart.
This brand is known for its wide range of quality products and decent pricing, so it's no surprise this model is featured on the list.
This one has a total of 1,800 watts that are split into 1,300 for the primary burner and 500 watts for the secondary one. This makes it ideal for both warming up and cooking meals without wasting too much energy.
Each one of the burners has its own 6-level adjustable heat levels that you can control using the knob. Moreover, each one of the burners has its own thermostat for highly accurate heat controls.
Specifications and Features
Cord length: 36 inches
Dimensions: 75 x 22.5 x 15.25 inches
Overall Weight: 10.6 lbs
Type: coil (double)
Temperature Range: Up to 500 F
Wattage: 1,800 watts (1,300 primary, 500 secondary)
Pros
An excellent choice for cooking and warming meals combo
Relatively inexpensive for a twin-burner stove
Each burner has its own thermostat and temperature controls
Cons
Types of Portable Electric Stove
A portable electric stove is a lifesaver for many purposes, and since it's a miniature version of real stoves, they also come in various types.
These types can be classified in a variety of ways. However, the best way to group electric stoves is through their heating elements.
Here's a brief overview of each one of these types, so you can find the best fit for your needs:
Infrared
When you first think of an electric stove, whether it's portable or not, you're probably imagining an infrared stove.
This is because, up until recently, most if not all of the electric stoves out there used infrared radiation to heat up.
These stoves usually have a ceramic smooth top but can also be a bare stove that shows the coil itself. What's great about this type of stoves is that they're pretty quick, generating a lot of heat while using less energy.
They also don't require any kind of special cookware on the stove to activate it, making them great for multiple purposes and different types of cookware.
An infrared electric stove will usually have a halogen lamp and thick coils that radiate the heat while glowing bright red, so you'll always know when it's on.
The heat transfers directly from the coil to the cooking pots mainly through infrared radiation, hence the name. When it comes to cooking, this type of portable electric stoves can heat up your food and cook quite efficiently.
Infrared radiation is a safe kind of radiation, and it's how the sun provides the earth with warmth, so you won't have to worry about your health or your family's safety.
Induction
Induction stoves are relatively newer than Infrared ones. These electric stoves use electromagnetic waves rather than infrared radiation as the heating element of the stove.
Similar to infrared stoves, induction stoves also use coils. However, the coils here transfer the heat energy directly into the cookware, all the while being covered with a ceramic glass surface.
Since no heat is lost in the form of glowing red coils or radiating heat from the stove, the cookware is heated up much faster and more evenly than an infrared one.
Also, the cooking stove won't be as hot to touch as the infrared one. In fact, a piece of wax next to an induction stove won't even melt when it's working.
As you can see, such portable electric stoves would be a great option for safety, especially if you have kids around the stove. If the stove is turned on with no cookware on top, it won't heat up!
However, portable electric stoves are known for being a little pricier than the average infrared alternative. They also can produce high-pitched noise from the pans.
Also, since they use induction and magnetic heat transfer, they'll only work with specific metal cookware known as "induction-ready", so they aren't as versatile as an infrared or coil one.
Coil
Coils are the simplest and most straightforward types of electric stoves. They're the oldest of the three and take a bit longer to heat up when compared to induction or infrared alternatives.
They will heat up anything that comes in contact with the coils and will usually come at a fraction of what other types of stoves might cost you, making them ideal for anyone looking for a highly affordable option to cook their dinner while camping.
What to Look for While Shopping for a Portable Electric Stove
In addition to the type of electric stove, there are some aspects that you need to consider before making up your mind on the best portable electric stove. Let's have a quick look at each one of these items:
Materials Used
The materials used while making a portable electric stove will tell you a lot about its durability. Since this item is your way to have a warm dinner while you're out camping, you have to make sure that it's made of sturdy materials that can handle heavy-duty use.
Ideally, stainless steel is the perfect material for the job because it combines rigidity and rust resistance, so you won't have to worry about moisture and spilled liquids.
It's also quite easy to clean, which makes it easier and quicker to pack your stuff when you're finished.
In addition to stainless steel, cast iron is a more budget-friendly material that's also tough enough but might need covering with aluminum foil to protect it from rust.
Heating Element Wattage
As previously mentioned, the type of portable stove is a reflection of its heating properties. Yet, the wattage of the heating element still plays a huge role in this matter.
Portable electric burners are available in a variety of wattage scores, ranging from 1,000 watts to 1,800 watts or more. The higher the wattage, the faster it'll heat up the food and the more energy it'll consume.
If you're using the stove for one person and for light uses such as making coffee or warming up your dinner, a low wattage one will work for you. For families and people cooking food from scratch, consider a higher wattage to save your time.
Single or Double?
Many of the portable electric stoves on the market are available in a double burner design. This might be excellent for multitasking and cooking various elements at the same time.
If you don't think you'll need a double burner, it's better to stick to the single one because double burners might split the heating power while single stoves are usually more power-concentrated.
Portability
Since this guide is all about portable electric stoves, the size, weight, and storability of the electric stove are one of its golden standards.
Always makes sure that the size and weight of the electric stove you're buying are within your tolerable range.
Controls
Some burners use knobs to control the heat of the burners while others use buttons. This is a matter of personal preference, although most knob-based stoves are usually more affordable while button-controlled stoves have more features. So you have to keep that in mind.
In addition to controls type, there are also control levels. If you like to adjust your heat on low or high, consider an electric portable stove that comes with multi-level heat controls and a thermostat.
Ease of Use and Care
Like regular stoves, this one is bound to get messy after being used for quite some time. Left-on greases won't only overburn and cause unpleasant smoke and smell, but will also affect the performance of the burner.
That's why getting an electric stove that's easy to clean is highly essential. Ideally, an electric stove with stainless steel body should be the easiest to clean
Auto Shut off Feature
Some portable electric stoves come with a shut-off feature and some don't. This feature allows you to run different errands while warming up or cooking a meal without worrying about it burning or overheating.
Wrap Up
There you have it! A complete buyer's guide with everything you need to know before buying the best portable electric stove for your needs.
For a portable electric burner to be a good one, it needs to have a decently high wattage per burner as well as comfortable temperature controls and easy to clean body.
Based on these reasons, we recommend Techwood Hot Plate Electric Stove as the best overall option on the market.
However, if you're on a tight budget and looking for an inexpensive alternative that can still get the job done, the Ovente Hot Plate Electric Countertop Coil Stove is your best bet. This one offers decent wattage and temperature control without poking a hole in your wallet!