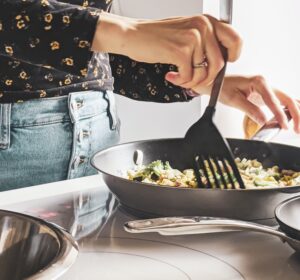 Blue Diamond is one of the hottest cookware manufacturers today. The recently launched brand has been promoted almost everywhere, from social media to television. If you want to find out more about Blue Diamond Pans and Cookware Set, you're in for a treat! Want to find out whether these products are ideal for your needs? In today's article, we'll walk you through in-depth Blue Diamond Pan reviews.
The pan is highly praised for its manufacturing quality, durability, and ease of cleaning. But is the Blue Diamond Pan a good investment. Without further ado, let's dive in!
Blue Diamond Cookware Reviews
The Blue Diamond Cookware set is popular for its vibrant blue colour as well as its diamond-infused ceramic construction. This greatly enhances the durability of the pans and makes them last a lot longer.
The cookware set of Blue Diamond is composed of 10 pieces, including a 2 frypan (7 and 9 inches) without lids, 2.5 quarts skillet with a lid, 2 quarts saucepan with a lid, 5 quarts stock pot with lid, as well as black nylon ladle and turner
Many people praise the ceramic nonstick utensils for their performance and hardiness in the kitchen. Blue Diamond Cookware offers great heat conductivity while maintaining a solid non-stick surface that doesn't warp or discolour.
The pans are easy to clean and versatile. You will have no problem using them in the oven and over open flames.
When it comes to downsides, there isn't much to talk about.  Any minor drawback won't stand a chance against its excellent price range!
Until very recently, Blue Diamond was only available in Blue colour, which might not be suitable for every kitchen design. However, they recently launched their Red Diamond set. It has the same design features and materials but with the colour red.
Pros
Durable construction with quality aluminum and diamond-infused ceramic
Free of all contaminant materials that might produce toxic fumes
Excellent heat conductivity
Very high melting point handles
Scratch-resistant design to stay aesthetically pleasing for longer
Easy to clean and dishwasher safe
Outstanding quality for its price
Cons
Limited color options
Might not work as well on an induction stovetop


Check Price and Reviews on Amazon
A Deeper Look at Blue Diamond Pan Features and Specifications
Now that you have a quick idea about the Blue Diamond Cookware features, it's time you find out more about the product's main features and how it compares to the market average.
Materials Used
One of the most important factors to assess the quality of any cookware set is the materials used in it.
In Blue Diamond's case, whether it's the pan or any other piece of the set, the base metal used to make the pan is aluminum.
This aluminum is of decent quality, which has acceptable durability all the while staying relatively lightweight for easy maneuvering and comfortable control over the heat.
Aluminum also has an excellent heat transmission score, which means that the food will be cooked evenly and in little time.  It will also save as much energy as possible and prevent hot and cold spots in the food.
The most unique part about the materials is the coating. The Blue Diamond has a special diamond-infused ceramic coating.
According to the manufacturer, this makes it last up to 10 times longer than the average ceramic pan with no diamond infusion and transfer the heat up to 4 times quicker and more evenly.
Durability
As previously mentioned, the Blue Diamond pan uses industrial diamonds with ceramic coating to enhance the pan's endurance.
However, the marketing of the pan seems a bit exaggerated. In the TV ad, they say that the pans are hammers-safe, which is obviously not true, the pan will irreversibly dent upon being hammered.
Yet, you get the point. The cookware is pretty tough and will withstand much more than the average pan.
The base of the pan is designed to resist warping, degrading, and wobbling with time.  This is all thanks to its lightweight forging and base design.
Additionally, the ceramic structure resists scratching since the set doesn't use nonstick Teflon derivatives, you can safely use metal utensils along with the product without worrying about scratching the surface or sticking.
Despite that, we recommend that you use wooden or silicone utensils along with the pan if you want it to last a reasonable while.
Utensils Included
Blue Diamond makes a wide variety of cookware items to choose from. You can purchase their entire set, which is composed of 10 pieces, or buy a single piece.


Check Price and Reviews on Amazon
Moreover, Blue Diamond also offers different packages for a pretty decent prices, so you won't have to buy several unnecessary items to get the stockpot or the saucepan you've been looking for.
This might not seem like much. However, many cookware brands today are selling their products only as a whole, which is pretty annoying, especially when it's time for a replacement.
Pan Design
The design of the set is pretty much the traditional french-style one. If you're a skilled cook who likes to flip the food around with your wrist, such a design should be a superb choice for you!
However, the design of the edges makes the pans also beginner-friendly. The sidewalls of the pan are high enough to prevent the content of food from falling outside but still low enough to let you toss the food with a spatula without obstructing your view.
Like most French-style pans, this one doesn't have a rolled lip for pouring liquids, so it might be a bit tricky to pour liquids from the pan into smaller jars.
Compatibility
One of the most impressive aspects of the Blue Diamond Cookware set is that it's highly compatible with a wide variety of cooking surfaces.
According to Blue Diamond, the set is suitable for all kinds of stovetops, this includes open flame gas ones as well as electric, halogen, and ceramic ones.
This doesn't include induction stovetops as they may not function well on them. In addition to stovetops, you can also use the Blue Diamond cookware in ovens and boilers.
The wide range of compatibility adds a lot of value to the set, saving you both money and storage space.
Washability and Ease of Cleaning
Thanks to its durable construction, stick-free coating, and scratch-resistant design, the Blue Diamond Pan is quite easy to clean with a sponge, dish soap, and warm water.
Additionally, the pan is dishwasher safe. Therefore you can give them a quick and convenient clean-up without worrying about damage.
The Handles
Since the Blue Diamond is oven-safe, it has metal handles. This makes the pan tolerant to oven heat up to 850 degrees F.
This also means that the handles get quite hot, but it's still nothing a pair of oven mitts can't handle.
However, for some people, a non-insulated handle might not be a great idea.  Many people rarely put their pans in the oven to finish cooking like professional chefs.  Also, using oven mitts while cooking on the stovetop isn't convenient for everyday use.
The Pan's Lid
Blue Diamond pans come with a glass lid. It fits the circumference of the pan exactly.
The tight-fitting design not only helps in sealing the moisture inside but also prevent loud wobbling sound when you toss the pan.
The heat-resistant glass lid is clear to let you peek at your meal without having to remove it.
Color Availability
One of the aspects that make some pans popular is the wide variety of color options. This way, you'll be able to pick a set that suits your kitchen style and color palette.
However, in Blue Diamonds Cookware's case, this might be one of the major drawbacks of the brand: the lack of color options.
Unfortunately, Blue Diamond was only available in blue color. The color is vibrant and pretty stable in high heat but is still a single color that might not match everyone's kitchens like a neutral black color would do, for example.
Yet, Blue Diamond is considering adding more colors to their list, and recently, they've added red color to their color options, which is called "Red Diamond". The set has the same features, design, and performance.
Quality for Money
Last but not least, if there's anything Blue Diamond Pans excel at, it would be offering a great bang for your buck!
Price-wise, Blue Diamond will save you money when compared to high-end models, despite offering pretty competitive performance.
Of course, a premium set that costs a lot more might have an edge in terms of durability and performance.
However, for many, a pan that costs a fraction of the price with comparable performance is much better.
The pan comes with a 90-day money-back guarantee, which adds an extra layer of security to your purchase.
FAQs
Who should buy Blue Diamond Cookware?
Blue Diamond Cookware comes at a price range that makes it an excellent pick for a wide range of users.
It's a great choice for anyone willing to splurge a little for a great quality product.
In other words, if you want a decent medium-high range cooking set, the Blue Diamond Cookware Set is a great place to start. The quality and durability of the pans will last for a considerable amount of time with a light to medium user.
However, if you're an extensive user or a chef, you might need a top-tier alternative,
Is Blue Diamond Cookware safe?
Your cookware will come in contact with almost everything you eat at home.  Therefore, it's crucial for it to be safe.
Many cookware brands won't address the content of their materials. However, Blue Diamond clearly states that all their sets, including the pans, pots, and nylon utensils, are free of toxins.
According to Blue Diamond, their products are manufactured without any poly-fluoroalkyl substances (PFAS) and Perfluorooctanoic acid (PFOA). Both of these materials were found in various studies to have a potential for causing cancerous tumors.
Additionally, the products are free of metals that release toxic fumes when heated, such as cadmium and lead, which were found by studies to cause multiple organs and system failure as well as some forms of cancer and learning difficulties in kids.
We can conclude that you may use Blue Diamond Cookware safely without worrying about toxins and dangerous materials.
How to care for Blue Diamond Cookware
Just like any other cookware set, caring for the Blue Diamond Pans appropriately is key. It will ensure they remain functional and aesthetically pleasing for a long time.
As a rule of thumb, the Blue Diamond line is dishwasher-safe. This provides worry-free and easy cleanup.
However, it's best that you wash them by hand with warm soapy water and a soft sponge. This will extend the lifespan of the set. Don't worry, all the food greases and grime will still come right off this way.
Avoid seasoning the pan or letting the oils smoke or burn on the pan. This can cause the non-stick coating to crack.


Check Price and Reviews on Amazon
Wrap Up the Blue Diamond Pan Review?
There you have it! We hope these Blue Diamond Pan reviews armed you with everything you need to know. The only question remaining is: "Are Blue Diamond pans worth the investment?"
As we said, the product is made of premium aluminum and diamond-infused ceramic.  It also comes with a durable non-stick coating.
This blend of material ensures high conductivity for evenly cooked food. It also provides a sturdy construction that won't warp or scratch. The line also has an impressive design that lasts for a long time.
And considering the extremely reasonable price of Blue Diamond pans, they're an excellent investment for household kitchens!