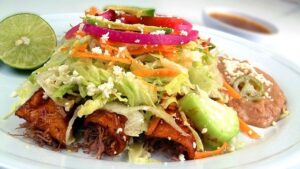 From soups to casseroles and from pastas to pizzas, enchilada sauce is no longer exclusive to enchiladas. Whether you prefer it red or green, we're here to help you save some time on your mission of finding the best canned enchilada sauce. Today, we're reviewing the 6 best store-bought enchilada sauces and sharing a detailed buying guide to make sure you buy the right sauce for your culinary needs.
The 6 Best Store-Bought Enchilada Sauces
1. Rosarita Enchilada Sauce
Rosarita is an American brand for Mexican food that's popular among both Americans and Mexicans due to its authentic flavors and lack of artificial additives.
The main ingredient in their red enchilada sauce is tomato puree and red chili puree, so the heat factor is mild. The taste is pleasant and the texture is just right, making this sauce a favorite for frequent use.
Unlike most canned foods that tend to be a bit acidic because of the loaded preservatives such as vinegar or lemon, Rosarita enchilada sauce contains citric acid in a reasonable quantity so it won't taste like eating a pickle.
What's more, all the ingredients in this sauce are keto-friendly, offering 20 calories per serving with 0 grams trans fat, 2 grams net carbs, and 0 grams added sugar. The Rosarita enchilada sauce is sold as a pack of twelve 20-oz cans with a shelf life of 18 months.
Pros
Mild heat level
A rich and versatile flavor
Keto-friendly ingredients with no added sugars
Sold in packs of 12 cans
Cons
No additional storage option after opening the can
2. Old El Paso Red Enchilada Sauce
If you're looking for a red enchilada sauce that's a little bit hotter than the Rosarita but not by much, then this one from Old El Paso should be right up your alley.
Delivering a signature nostalgic flavor, this 28-oz can is enough to make a meal enough for several people. Such capacity is ideal if you're cooking for a large family or for friends at a dinner party.
This enchilada sauce doesn't feature a declaration of obligatory allergens, which is a plus for anyone suffering from food allergies. It's a simple yet flavorful tomato-based sauce with a mild blend of spices.
This mildness will enhance the taste of your recipes while highlighting the flavor of other ingredients, unlike hotter versions that tend to overpower the taste of soups, meats, or veggies.
The Old El Paso red enchilada sauce contains 20 calories per serving with 1 gram of sugar and no trans fat.
Pros
Available in large-quantity cans
Medium spice level
Suitable for any type of enchilada
Good for those suffering from food allergies
Cons
No additional storage option after opening the can
3. Simply Organic Green Enchilada Simmer Sauce
Next up on our best store-bought enchilada sauce list is one that's bagged rather than canned: the Simply Organic Green Enchilada Simmer Sauce.
Like all other canned options, this sauce is already prepared and requires little effort from you to turn it into a delicious sauce that some say is even better than canned. As the name suggests, this enchilada sauce is 100% certified organic and it comes in a sealed package.
It's made using a rich blend of poblano peppers and jalapeños to give you just the right amount of tanginess and spice such as cilantro, cumin, and garlic. This combination goes perfectly with cheese, pork, and chicken enchiladas.
Besides being easy to prepare, this green enchilada sauce incorporates pure ingredients that are grown and processed without the use of harmful pesticides, irradiation, or GMOs. The Simply Organic Green Enchilada Simmer Sauce comes in packs of six 8-oz bags.
Pros
100% Organic green enchilada sauce option
Comes in a sealed, easy-to-use package
Pure, non-toxic ingredients
Cons
4. Las Palmas Green Chile Enchilada Sauce
With a history of over 70 years in the Mexican food industry, the Las Palmas brand has multiple staple recipes that are loved for their authenticity and rich taste. They're also known for using high-quality ingredients, where the tomatillos and chiles are handpicked and added with all the freshness intact.
The Las Palmas Green Chile Enchilada Sauce is one of the best canned green enchilada sauces on the market thanks to its deep, spicy, yet not overwhelming flavor. This doesn't mean it doesn't pack some heat.
This medium-heat sauce is made from fresh green chile peppers, jalapeño peppers, garlic, and spices. It'll complement all of your favorite meals, not limited to Mexican recipes.
This includes lasagna, casseroles, soups, pulled pork, macaroni, and cheese. You can even eat it as a salsa dip with tortilla chips, potato chips, veggies, and egg rolls.
The Las Palmas Green Chile Enchilada Sauce contains 25 calories per serving with 1 gram of sugar and no trans fat. You can find them in packs of twelve 28-oz cans.
Pros
Handpicked ingredients
The sauce is Kosher-friendly
Packs medium heat
Extremely versatile
Cons
The packaging quality is below average
5. Hatch Green Chili Enchilada Sauce
Another popular brand for Mexican food is Hatch, and this green chile enchilada sauce is one of their best products that you don't want to miss out on trying.
This green enchilada sauce has a delicious and authentic taste that packs a lot of flavor without being too hot or spicy. With a medium rating, this sauce is available in packs of six 15-oz cans.
One thing we like about this sauce is how well it mixes with red enchilada sauce if you want to give it a go. Hatch brand also offers a gluten-free option in case that's more fitting to your dietary restrictions.
Additionally, the cans here come with an easy-open lid to save you from having to find a can opener to use the sauce. As for the list of ingredients, it's short with mostly healthy ingredients and no toxic additives or preservatives that you need to worry about.
This green enchilada sauce incorporates green chiles, soybean oil, and garlic as the main ingredients. It is "Certified Gluten-Free" as well as "Verified Non-GMO".
Pros
Healthy ingredients
Easy-open lid
Has a gluten-free option
Cons
The flavor can be a bit too mild for some users
6. La Victoria Traditional Red Enchilada Sauce
Last but not least, the Traditional Red Enchilada Sauce from La Victoria is an excellent choice for anyone looking for a sauce full of flavor but low on spice.
This red enchilada sauce is mild on the heat scale, yet it's rich and savory at the same time. It's a lighter option that's suitable for anyone particularly sensitive to flavors and spices.
The ingredients are wholesome for the most part as well.
The La Victoria red enchilada sauce is a high-quality product. It uses premium ingredients. It's gluten-free and keto-friendly, containing red chile peppers, dehydrated chile peppers, soybean oil, salt, garlic, and spices.
A hearty but not overpowering addition to any dish, this sauce is also certified as Kosher. Available in packs of twelve 10-ounce cans, a serving of this red enchilada sauce has 25 calories and 1.5 grams of fat.
Pros
Packed withflavor but mild spice
Gluten-free and Kosher certified
Keto-friendly
Cons
What is Enchilada Sauce?
Enchilada sauce is the sauce in which enchiladas are baked. The origin of the word "enchilada" is the root word "enchilar", which is Spanish for "to season with chili". As such, any enchilada sauce must contain a form of chili by definition.
Not to be confused with burritos, enchiladas consist of corn tortillas with a filling. On the top, chile sauce is added (red or green, according to preference) along with cheese – a lot of it.
Finally, this concoction is baked to allow all the ingredients, herbs, and spices to blend. Enchilada sauce has a lot of flavor, and you can make it in a variety of Mexican-style recipes that each tastes just as yummy as the next.
But regardless of the recipe you choose, enchilada sauce is added to any dish to give it a savory kick, whether it's for dipping or baking. Usually, it's made as a thick yet soupy sauce, which allows all the incorporated flavors to sink into the stuffed corn tortilla and enrich the dish as it bakes.
You can fill your enchiladas with anything from beans and meat to cheese, beans, potatoes, veggies, or a combination thereof.
Ingredients in Enchilada Sauce
Traditionally, a recipe for red enchilada sauce will use the following ingredients:
Tomato paste
Chili powder
Cumin
Garlic
Olive oil
Oregano
Salt and pepper to taste
The recipe will also call for either broth or water, with the possibility of adding either white vinegar or apple cider vinegar. You should mix in some flour to thicken the sauce.
Types of Enchilada Sauce
The most common type of enchilada sauce is, of course, the traditional red sauce.  Typically ingredients are tomato paste, chili powder, a liquid base, a thickening agent, and a few spices.
Red enchilada sauce is savory and loaded with warm seasoning, but it's not really "hot" per se. On the other hand, green enchilada sauce is creamier and can be "hotter". However, this depends on the way you want to make it.
One thing is for sure though, there's no tomato paste in green enchilada sauce. Instead, it mainly contains roasted green chilies blended with your preferred broth. If you're looking for more heat, you can throw in some crushed jalapeños.
What's more, you can make a white enchilada sauce. It is common to use this sauce when cooking chicken enchiladas, but it's the least Mexican type of all the enchiladas.
In white enchilada sauce -yes, you guessed it- there's no tomato paste. The sauce has a creamy base that you can get by combining butter, flour, and sour cream over the stove.
You can add some green chilies for a kick of heat or cover your white enchiladas with cheese to give the dish a little extra flavor.
How to Choose the Best Canned Enchilada Sauce
When shopping for the best store-bought enchilada, you need to understand that canned enchilada sauce brands vary wildly in quality and taste. So, grabbing the first can you see on the shelf isn't a good idea.
Below, we'll discuss a few aspects that you should consider before buying any type of canned enchilada sauce.
Ingredients
The ingredients of the enchilada sauce should be your top priority. Looking through the list of ingredients allows you to decide if a certain sauce is right for your needs, especially if you suffer from a food allergy.
As a rule of thumb, the fewer ingredients, the better the quality of the sauce. If you see a store-bought enchilada sauce with too long an ingredients list, then it likely contains a bunch of preservatives.
Also, if you prefer using a mild sauce, stay clear from any canned enchilada sauces with whole chiles labeled as the main ingredient.
Red or Green?
While we're on the topic, you need to decide whether you prefer red or green enchilada sauce since the main difference between the two is the added ingredients.
Tomatoes are what make red enchilada sauce red, while green peppers and jalapeños are what make green enchilada green. Choosing which one to buy is up to your flavor preference and what kind of food you plan to cook.
Nutrition
Before buying canned enchilada sauce, you need to look over its calories, salt, sugar, carbs, and fat contents.
Generally speaking, enchilada sauces are low in calories, sugar, carbs, and fat. A regular serving offers approximately 15 to 25 calories, 2 to 3 grams of sugar, 2 to 4 grams of carbs, and zero fat.
You do get some nutritional value from enchilada sauce in the form of antioxidants and Vitamin C from the tomatoes incorporated in the red type. Obviously, that's not much compared to eating fresh tomatoes in a salad, but hey, it's worth mentioning.
If you're in the market for a gluten-free or Kosher enchilada sauce, you may want to check out the La Victoria Traditional Red Enchilada Sauce. But if you're after a low carb and no sugar option, the Rosarita Enchilada Sauce can be a good choice.
Versatility
Finally, consider how versatile the sauce you're buying is. You see, enchilada sauce isn't exclusive to enchiladas.
You can pair both red and green enchilada sauces with other Mexican-style dishes as well as various American-style meals including a wide array of soups, casseroles, pasta, cheese, and even pizza.
A lot of people also use enchilada sauce as a dip for tortilla chips, potato chips, egg rolls, or raw veggies.
Best Store-Bought Enchilada Sauce – FAQs
How can I Make Store-Bought Enchilada Sauce Taste Like Homemade?
When it comes to stocking up the pantry, nothing tops canned foods – especially if you're often too busy to prepare something like enchilada sauce from scratch.
Still, the taste of a canned sauce may not sit totally right with you. Luckily, there's always a way to alter your store-bought enchilada sauce and hit the flavor spot you like.
Below is a popular and effective recipe to make any canned enchilada sauce more delicious.
Required Ingredients
1 tbsp butter, unsalted
1 can red or green enchilada sauce
1 tbsp all-purpose flour
1 cup chicken broth
1/4 tsp black pepper, ground
Salt, to taste
Directions
Place a flat bottom pan on the stove and turn the heat to medium.
Add the butter and keep heating it until it becomes foamy.
Once the butter foams up, add the flour and keep whisking it in one direction for a minute or so.
Add the canned enchilada sauce, chicken broth, salt, and pepper.
Turn the heat a little higher and bring the mixture to a boil while occasionally stirring.
After the mixture comes to a boil, lower the heat to medium.
Let the mixture simmer until the sauce thickens as desired. In general, this should take about 10 to 15 minutes.
Now, your sauce is ready and tastier than ever.
Is Green Spicier than Red?
The answer really depends on the added ingredients, the brand you buy, and the way the sauce is made. But in general, true enchilada sauce is supposed to be on the spicy side.
Checking the spice rating on the can (mild, medium, or hot) is the best method to determine which type of enchilada sauce is spicier.
Wrap Up
Choosing the best store-bought enchilada sauce can be tricky business, this is why we made sure to include only the top-rated options on the market so you can end up with a great sauce no matter what.
That being said, we recommend the Rosarita Enchilada Sauce as today's winner if you're looking for a low carb, no sugar, mildly hot red enchilada sauce.
But if you're in the market for a gluten-free, Kosher enchilada sauce, you may want to check out the La Victoria Traditional Red Enchilada Sauce.