Are you in the market for a reliable chef knife? Then you've come to the right place! Today, we're reviewing 5 of the most expensive chef knives and sharing a detailed buying guide to help choose the right knife for your cooking needs.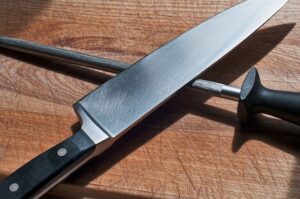 The 5 Best Most Expensive Chef Knives
1. Shun Cutlery Premier 8" Chef Knife
It's no secret that Japanese chef knives tend to be expensive, and the Shun Premier 8" Chef Knife is no exception. This knife is meant for everyday use, which makes it a great choice for home cooks.
It is lightweight, comfortable, versatile, and easy to handle. Weighing in at only 7.5 ounces, this knife is ideal for prepping meals in advance for the week or making five-course meals for dinner parties.
The blade features VG-Max super steel at its core, surrounded by 68 layers of Damascus cladding. Additionally, the core is sealed with a hammered finish that looks beautiful and easily releases food.
Built using the latest technologies, the blade is fine-grained, strong, and corrosion-resistant. Its edge is sharpened to 16 degrees per side to offer quick and precise cuts.
Granted, it's not as sharp as some of the other Japanese chef knives on the market, but it's a little more versatile. As such, you can use it for cutting through thicker bits of meat, fruits, and vegetables.
Hand-crafted in Japan, you'll be investing in a genuine Japanese product if you decide to purchase this knife.
If you're looking for decent sharpness, versatility, and practical features, then this knife is the way to go. But if you need something sharper, you're probably better off with another candidate from our list.
Pros
Ideal for everyday use
Authentic Japanese craftsmanship
VG-Max super steel core
Cons
Not as sharp as some other options
2. Miyabi 8-Inch Birch/Stainless Steel Chef Knife
The Miyabi 8-Inch Birch/Stainless Steel Chef Knife is a safe option.
A true work of art, the blade on this knife features a flowering Damascus pattern. The handle is also made of traditional Japanese Karelian (Masur) Birch, showing off a thin red line at the handle's top and bottom to give the knife a luxurious appearance.
The blade on this chef knife is crafted out of SG2 micro-carbide powder steel at the core, surrounded by 100 layers of extra protection. What's more, it's ice-hardened to 63 on the Rockwell Hardness Scale, and sharpened to a 9.5 to 12-degree edge using the Honbazuke method.
This knife is hand-crafted in Seki, Japan, so you can rest assured you're paying for an authentic product. If you're in the market for an aesthetically striking chef knife with exceptional performance and long-lasting sharpness, then you should seriously consider this one.
Pros
Very durable
Stunning look
Made in Seki, Japan
Cons
The blade is a bit too thin so it's prone to chipping
3. KRAMER by ZWILLING EUROLINE Essential Collection 8″ Chef Knife
Created by Bob Kramer, one of the very few world-renowned master blade smiths specializing in kitchen cutlery, this chef knife is as expensive as it is of superb quality.
This Kramer knife has an SG2 (MC63) micro-carbide powder steel blade, complete with an extra-wide design to better accommodate large hands. It can also cut through tougher ingredients such as bones and thick meats.
The Rockwell Hardness Scale for this ice-hardened blade comes in at 63 degrees.  The edge angle is between 9 to 12 degree on each side. It's both sharp and tough to ensure long-lasting edge retention.
Hand-finished by Japanese artisans, this chef knife is a wonderful choice for fans of Bob Kramer. It's been designed the meet his demanding standards, perfecting every curve while prioritizing balance and utility.
It has sharpness comparable to that of a scalpel, allowing you to make precise cuts. Looks-wise, however, this knife has nothing particularly exciting.
So, if you're searching for a knife that appears more luxurious or "cool", this knife may not be worth the price for you. The handle on this knife is a lot plainer and more traditional-looking than other Japanese knives on our list.
Still, it's quite comfortable to maneuver and offers a secure grip, which redeems it for the lack of style.
Pros
An excellent choice if you're a Bob Kramer fan
Has a wider design to suit larger hands
Comfortable to maneuver
Cons
4. Wusthof IKON 8-Inch Cook's Knife
The Wusthof Ikon 8-Inch Chef Knife is the star of its collection. Yes, it's pricey, but you'll get to enjoy it for several decades.
Renowned for their durability, Wusthof knives are designed for optimal slicing, chopping, mincing, and dicing – the Ikon is no exception. It's also very strong to let you smoothly cut through tough meats and bones.
Another cool feature of this knife is the Grenadilla handle. Also referred to as African Blackwood, Grenadilla is an ultra-durable wood that isn't just extremely sturdy, but also super elegant.
With over 200 years of experience, this knife is crafted in Solingen, Germany. The blade is a 58 on the Rockwell scale, which is somewhat softer than other candidates on the list. However, this does boost its sturdiness and makes it less prone to chipping.
For this knife, Wusthof uses a unique steel formula (X50CRMOV15) that forges a sharp, hard, and stain-resistant blade. Still, it's a little thicker than most Japanese knives, so keep that in mind when deciding to purchase.
Pros
Grenadilla handle
Made in Germany
Cons
The blade is on the thicker side
5. Miyabi Black 5000MCD67 8-inch Chef Knife
Last but not least, we have another option from Miyabi. Not only is this a practical chef knife, but it also involves top-tier craftsmanship.
It sports a flowering Damascus finish and a sleek black ash wood handle that makes for a stylish addition to your kitchen.
The blade on this knife consists of 133 layers of micro-carbide powdered steel. It registers a whopping 66 on the Rockwell Scale.
Hand-crafted in Seki, Japan, this knife is sharpened using a traditional Honbazuke method. Besides providing a stunning appearance, the Damascus pattern also facilitates food release while the D-shaped handle offers extra comfort and better grip.
Although the blade does have numerous benefits, it's not as tough as other Japanese knives we reviewed today. Generally, knives with higher Rockwell Hardness Scores are more brittle than those with lower scores.
Pros
Exquisite look
The blade is very hard
A comfortable grip
Cons
The blade is more brittle
What to Consider before Buying an Expensive Chef Knife
If you want to buy the best, most expensive chef knife, there are a few features that you should first consider before making a final decision. Such features can affect the efficiency of the knife in line with your cooking style, as well as the speed and ease of your kitchen work.
So, let's take a look at these important features:
Material
When we talk about the material of a chef knife, we mean the material of its blade face. The blade face is the main body of any knife, and it's an essential part of the tool because its purpose is to deliver precise cuts, crush, and transport food.
The most common materials used in making blades on chef knives are stainless steel, carbon steel, Damascus steel, and ceramic. Here's a simple breakdown of each material:
Stainless steel – chef knives that are made out of stainless steel are usually intended to be an affordable yet durable option for customers on a budget. Stainless steel doesn't rust easily but it does require regular sharpening because these blades tend to dull quickly.
Carbon steel – the use of higher carbon content makes for a more durable, hard-wearing blade that stays sharp much longer than stainless steel. Carbon steel blades offer a rustic look but they're prone to rust and require a lot of maintenance to keep in good condition.
Damascus steel – also known as wootz, Damascus steel makes for an extremely durable blade with a rather sharp cutting edge.
Ceramic – blades made out of ceramic are quite hard yet lightweight enough to support easier handling. Their edges also stay sharp for a longer period than most metal knives.
Size
Many professional chefs consider the size of a knife to be the most important feature of a knife. You use chef knives to cut, slice, split and thrust different cooking materials.
As such, you would need different sizes of knives to accommodate different types of work. However, there's an ideal size that should be fine for most home cooks, which is 6 or 8 inches.
A bigger knife size, such as 10 inches, can be intimidating to use. You must deal with it more carefully. On the other hand, a 6 or 8-inch knife is more versatile and better suited for home cooks.
Weight
The weight of a chef knife mainly determines its ease of handling. A lighter knife is easier to lift and maneuver.
Still, the matter is subjective. Some cooks feel more comfortable with a weighted knife to cut foods more clearly with a nice flow. Others prefer lighter models to glide smoothly while cutting without feeling weighted down.
Handle
The handle is another important feature to consider. After all, it's the part that allows you to properly maneuver the blade.
Chef knife handles are manly available in 2 styles:
Western – this handle is a sandwiched tang with visible rivets.
Eastern (Asian) – this is a more round, sword-like handle with no visible rivets.
Handles come in a variety of materials including rubber, stainless steel, carbon fiber, plastic, polymer, wood, titanium, and so on.
The choice of the handle's material depends on the gripping power you're most comfortable with, so it's really a matter of personal preference.
Cutting Edge
Another significant part of a chef knife, or any type of knife, is the cutting edge. This is the sharp edge of the blade that actually does the cutting, so it should be as sharp as possible.
Depending on the type of kitchen knife, the cutting edge will be either straight or serrated. For chef knives, the edge is always straight.
With a straight edge design, the knife will feature one long smooth cutting edge. As a result, chef knives are suitable for cutting both softer and tougher ingredients including fruits, vegetables, and meats.
Be sure to keep the edge evenly sharp for extra convenience when cutting and slicing food.
Finally, most quality knives feature a half bolster, instead of a full bolster.  This means you can sharpen the blade all the way to the edge.
Example of a half bolster chef knife:

Example of a full bolster chef knife:

Most Expensive Chef Knives – FAQs
Why Should I Buy an Expensive Chef Knife?
There are several reasons why you should invest in an expensive chef knife.
For one, a regular chef knife won't last very long and is more likely to get rusty too. This means you'll end up buying multiple "affordable" chef knives in the same period you'll be using just the same high-end knife.
Buying one expensive chef knife will save you from worrying about the quality or performance of your knife because it'll be more durable and easier to work with.
Are Expensive Chef Knives Worth it?
Well, of course! If we compare a knife from a high-end brand with one from a generic brand, the difference in the quality of materials and craftsmanship is going to be beyond obvious.
Expensive chef knives are made out of quality metals using special methods and hand skills, so they're well worth the price. Not to mention, you'll be getting what you paid for in terms of durability and style.
How Long do Expensive Chef Knives Last?
As most of the expensive chef knives are made out of carbon steel or Damascus steel, they're expected to be long-lasting and very rust-resistant. As such, expensive chef knives can easily last for a few decades.
Wrap Up
There you have it, a complete guide on the most expensive chef knives. Choosing the best one can be a tricky task, so we made sure to include only the top-performing options on the market to ensure you end up with a great deal no matter what.
That being said, we recommend the Shun Cutlery Premier 8" Chef's Knife for everyday use if you're after a more practical expensive chef knife.