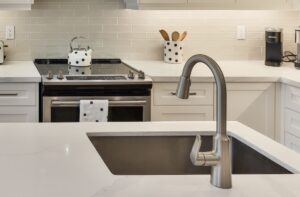 The kitchen sink and its faucet are one of the most essential focal points of your kitchen. And since a faucet should last you for a long time, it would be wise to invest in high-quality and advanced models that work by touch. In this article, we'll walk you through some of the best touch kitchen faucet reviews to help you buy the ideal one for your needs. So without further ado, let's dive in!
Top 7 Touch Kitchen Faucet Reviews
With so many options on the market, finding the best touch kitchen faucets might be a bit tricky. To aid you with the search process, we've made these reviews of the top recommendations on the market. Here's what each one of them has to offer:
1. DELTA Faucet Essa Single-Handle Touch Kitchen Sink Faucet
Kicking off the list with one of the most popular faucet manufacturers out there, Delta is known for the premium quality and innovative technologies they offer at various price ranges.
Although the Delta Essa faucet is one of their reasonably priced models, it's still one of the overall best touch kitchen faucets if you keep the price, quality, and features in mind.
This one has the regular deck-mounted faucet with a lever handle design. However, it's also designed to fit a single-hole installation, making it a versatile option.
This one has Delta's Diamond Seal Technology, which prevents water leaks and lasts quite a bit longer than cheap faucets on the market.
Another cool feature of the faucet is the LED light indicator that alerts you about the water temperature and notifies you when the battery needs replacement.
The faucet features a pull-down wand, which operates in both steam and spray style. This wand also has an integrated magnet that snaps it back in place to stay docked and prevent drooping over time.
Specifications
Material: Zinc
Finish Type: Arctic Stainless
Spout Height: 15.75 inches
Installation Method: Deck mount
Handle Style: Lever
Number of Handles: One
Pros
Excellent value for money
Features an LED temperature indicator
Comes with a 5-year warranty
Excellent sealing and removes the mineral buildup easily
Cons
The installation might be quite tricky
2. Kraus KPF-1610SS Bolden Commercial Pull Down Kitchen Faucet
Kraus is also one of the leading faucets manufacturers, so it's no wonder that one of their faucets would be on our list.
This relatively affordable kitchen faucet is made of premium lead-free brass that resists corrosion and comes in a variety of finishes to suit your kitchen style.
What makes this faucet unique is that, unlike the regular touch faucets. This one is activated by waving. The sensor is placed on the side to prevent the faucet from accidental activation.
The only drawback about this faucet is that its holding arm doesn't move, so it might get in your way while spraying.
Specifications
Material: brass
Finish Type: stainless steel, matte black, antique champagne bronze, brushed gold + combinations
Spout Height: unspecified
Installation Method: deck mount
Handle Style: Lever
Number of Handles: One
Pros
Durable materials and construction
Comes ready with connections
Works by hovering
Cons
3. Moen 7594ESRS Arbor Two-Sensor MotionSense Kitchen Faucet
Similar to Delta and Kraus, Moen is one of the biggest brands on the market, and the 7594ESRS model is one of the most popular faucets by Moen for all the good reasons.
The Moen faucet comes with MotionSense technology, which takes the idea of touch faucets to the next level.
Instead of having to touch the faucet, this touchless faucet is activated by hand movement. You'll only need to touch the faucet's handle to change the temperature and the pressure of water.
Another notable feature of the faucet is the Reflex system, which allows the faucet pull-down hose to retract itself when you leave it for a much easier and more comfortable operation.
If you're considering this faucet, make sure that you buy an adapter for the electric circuit instead of relying on the batteries.
Specifications
Material: Steel
Finish Type: chrome, oil-rubbed bronze, and spot-resistant stainless steel
Spout Height: 15.5 inches
Installation Method: 1 and 3 holes
Handle Style: Lever
Number of Handles: One
Pros
Comes with a Power Clean Mode
Designed to be water efficient
Excellent response to hovering
Cons
Batteries are too weak to power it, so you'll need to buy an adapter
4. Delta Faucet Lenta Single-Handle Touch Kitchen Sink Faucet
Next up we have another Delta faucet, which shows the amount of quality that this brand offers in its products.
The Delta Lenta faucet features some of the most advanced technologies that the company has.
It's made of high-quality and unreactive zinc, which lasts for a long time and resists corrosion quite well.
The valves on this faucet are embedded with Delta's trademark system, the Diamond Seal Technology. This one helps the faucet last twice as long as standard faucets.
Additionally, this one has a remarkably sleek design that will suit both modern and classical kitchens.
Additionally, it's available in aesthetically pleasing and fingerprint resistant finishes, including bronze, chrome, stainless steel, and matte black.
Specifications
Material: Zinc
Finish Type: Champagne Bronze, Chrome, SpotShield Stainless, Matte Black
Spout Height: 8.3 inches
Installation Method: Single hole
Handle Style: Lever
Number of Handles: One
Pros
Available in a variety of finishes
Remarkably durable and offers outstanding quality
Comes with all the installation accessories and InnoFlex supply lines
Cons
5. KOHLER Simplice Response Touchless Kitchen Faucet
Another touchless kitchen faucet that won't require touching the faucet directly is the KOHLER Simplice. This one is made of stainless steel and is available in multiple finishes
The Simplice kitchen faucet also comes with a retractable sprayer, which makes it quite handy and reaches every single point in the sink. The pull-down sprayer comes with two faucet modes, which are spraying and streaming.
Unlike most touch and touchless on the market, this one uses an AC power adapter rather than batteries, which spares you the hassle of replacing them frequently.
The kitchen faucet comes pre-assembled, which makes it quite easy to install even if you're a beginner!
Specifications
Material: stainless steel
Finish Type: stainless steel, chrome, and matte
Spout Height: 16 inches
Installation Method: single hole
Handle Style: Lever
Number of Handles: One
Pros
Features a retractable hose
Activated by hovering
Powered by adapter instead of batteries
Cons
Has a relatively low pressure for its price
6. Moen 5923EWC Align Motionsense Touchless Kitchen Faucet
If you're looking for a kitchen faucet with a relatively high spout for better coverage of your kitchen sink, Moen 5923EWC Align should be your way to go!
Similar to the previous Moen faucet on the list, this one also comes with MotionSense technology that allows you to enjoy a touchless faucet.
The faucet is available in 4 different finishes: metallic, matte black as well as chrome.
The elegant coating materials are also quite resilient and long-lasting, so you won't have to worry about them fading or chipping away with cleaning.
It also has excellent water pressure with a maximum flow rate of 1.5 gallons per minute. Although this might sound less than Delta's 1.8 gallons per minute, a lot of users reported excellent water pressure on this one.
The kitchen faucet also comes pre-assembled.
Specifications
Material: stainless steel
Finish Type: black stainless steel, spotless stainless steel, chrome, and matte black
Spout Height: 21.75
Installation Method: deck mounted
Handle Style: Lever
Number of Handles: One
Pros
High spout design and reach
Comes with a lifetime warranty
Minimizes splash with power clean feature
Cons
Doesn't have a sensor on the top of the faucet
7. Delta Faucet Leland Single-Handle Touch Kitchen Sink Faucet
Last but not least, if you're looking for a powerhouse sink faucet that prevents leaks due to worn and overused valves, you should consider the Delta Leland Faucet.
Similar to the previous Delta models on the list, this one also has the special MagnaTite docking system that is specifically designed to hold the spray head in place when you're not using it.
This one solves the problem of droopy heads that kitchen faucets with counterweight systems suffer from after a few months of use.
It also has the special TempSense technology that features an LED indicator that changes its color to reflect the temperature of the water.
Specifications
Material: Zinc
Finish Type: Arctic Stainless, Chrome, SpotShield Stainless, Venetian Bronze
Spout Height: 7.5 inches
Installation Method: Deck mount
Handle Style: Lever
Number of Handles: One
Pros
Extremely durable and reliable internal design that prevents leaks
Designed to fit both single and 3 holes kitchen sinks
The ShieldSpray Technology reduces splatter to 90% compared to regular sprayers
Cons
The Advantages of Having a Touch Kitchen Faucet
While some people might think that a touch kitchen faucet is just a luxury, others may find them quite a necessity, thanks to their many benefits.
Here are some of the perks and advantages that touch kitchen faucets might offer to your household:
1. More Hygienic
There are tons of scientific research out there that claim that some harmless surfaces can contain much more bacteria, fungal spores, and viruses than a toilet!
The reason behind that is simple; some of these places are taken for granted and cleaned much less frequently. For some people, the faucet itself is often overlooked while cleaning the dishes.
With too many people touching the kitchen faucet between each round of cleanup, the chances for spreading germs and bacteria can be quite huge.
Let's say that you're washing fruits, vegetables, or raw meat. In that case, you'll need to use your hands to handle them, which will expose your hands to a lot of microbes and bacteria.
That's why having a faucet that you can touch with the cleaner part of your hand or arm would prevent the spread of these germs.
2. Easier for Busy Hands
In many cases, your hands might be busy carrying stuff while you need the kitchen faucet. For instance, you might be holding some dirty plates or new groceries that need to be washed before consuming.
In that case, it would be much more convenient for the kitchen faucet to work instantly as you touch it with any part of your arm, so you can go ahead and wash your hands right away!
3. More Comfortable to Use
Although a simple act like turning the faucet on might sound like a simple task for the majority of people, it can be quite difficult for some.
People with disabilities, hand injury, lost fingers, or even those suffering from Parkinson's disease might take some time to turn on a faucet.
However, it would be much easier for them to enjoy a normal life if the faucet operates simply by touch!
4. Saves More Water
Although we all try to be more water-efficient while cleaning the dishes, it's always more convenient to leave the water faucet on than using our hands to manually turn them on and off, especially when our hands are soapy and we don't want the soap to go everywhere!
Yet, it's much easier for anyone to turn the water instantly off and on with a single touch. This will end up saving you a lot of water in the long run, which will also translate to saving more money on your monthly water bills, not to mention having a positive effect on the environment as well.
What to Look for While Buying a Touch Kitchen Faucet
Kitchen faucets are a long-term investment, which is why you need to make sure that you make the most out of the one you settle for.
While shopping for a touch kitchen faucet, there are various aspects that you need to keep in mind to ensure a quality product, here's a brief overview of these critical points:
Materials Used
Kitchen faucets are built to last for years, which is why they must be made of ultra-durable materials that resist corrosion and rusting.
The materials are also an indicator of the durability of the faucet and how they stand the test of time.
Always make sure that the faucets are made of corrosion-resistant materials, such as lead-free 304 stainless steel, brass, or zinc.
Ease of Installation
Touch faucets are a little more complicated than the standard faucet, so it's quite essential for the installation process to be a simple one if you don't want to hire a professional plumber to install the faucet.
The installation configuration is also an extremely essential aspect of a faucet because it should match the number of holes you have in your kitchen.
For instance, there are some kitchen faucets that come with a single-hole option while others come with 3 or 4 holes.
As a rule of thumb, touch faucets with single holes are usually the easiest ones to install. Luckily, if your sink is a 3-hole system, you can still install a single-hole faucet.
However, you'll need to buy a model that comes with a deck plate that covers and seals the additional unused holes to prevent leaks. (Most of our suggested models come with a 3-hole installation deck plate)
Sensitivity
The sensitivity of the touch faucets indicates how light the touch can be to still turn on the faucet. Medium to high sensitivity is essential for easy and convenient operation.
However, too much sensitivity might not be recommended, especially if you have pets and children who might trigger the faucet with their delicate touch.
Indicators
This is an optional feature yet very beneficial one. Light indicators won't only add luxury to your modern faucet, but will also let you know when the battery-powered faucet needs a new set of batteries or when the water is too hot or too cold.
Water Pressure
Some people like the option of high pressure when needed.  You should consider the water pressure of the faucet you are planning on buying.
Pull Down Sprayer and Modes
In the majority of cases, touch kitchen faucets will also have a pull-down sprayer. The retractable docking faucet head will allow the water to reach every part of the sink.
Besides the pull-down features, make sure that the faucet head comes with various modes, such as spraying and streaming.
Design
The design of the faucet is a matter of personal taste. Yet, the finishing materials are part of the kitchen's design.
Make sure that the coating materials are scratch-resistant and won't fade away with cleaning and intense use.
Wrap Up
There you have it! A complete guide with touch kitchen faucet reviews of the best options on the market as well as a guide on how to buy them!
As you can see, a touch kitchen faucet can be extremely beneficial if you want to limit germ spreading, save on water, and improve your overall kitchen convenience.
If you're looking for a nice overall touch kitchen faucet, we recommend that you go for the DELTA Faucet Essa Single-Handle Touch Kitchen Sink Faucet. This one is a premium kitchen faucet that is made of corrosion-resistant materials and combines quality and price.
However, if you don't mind splurging a bit extra for superior quality and features, you should consider the high-quality DELTA FAUCET Lenta Single-Handle Touch Kitchen Sink Faucet.