Stainless steel pizza pans are durable, rust-resistant, and inexpensive. For that reason, it is the choice for many professional chefs.
If you're hosting a pizza night for your family, you'll need to be fully equipped with your ingredients, pans, and oven. The ingredients are easy to buy, and the oven is probably already there. What you need help with is the pan, and that's what I'm here for!
I'll shed some light on the best stainless pizza pans on the market, so you can easily choose after seeing the reviews.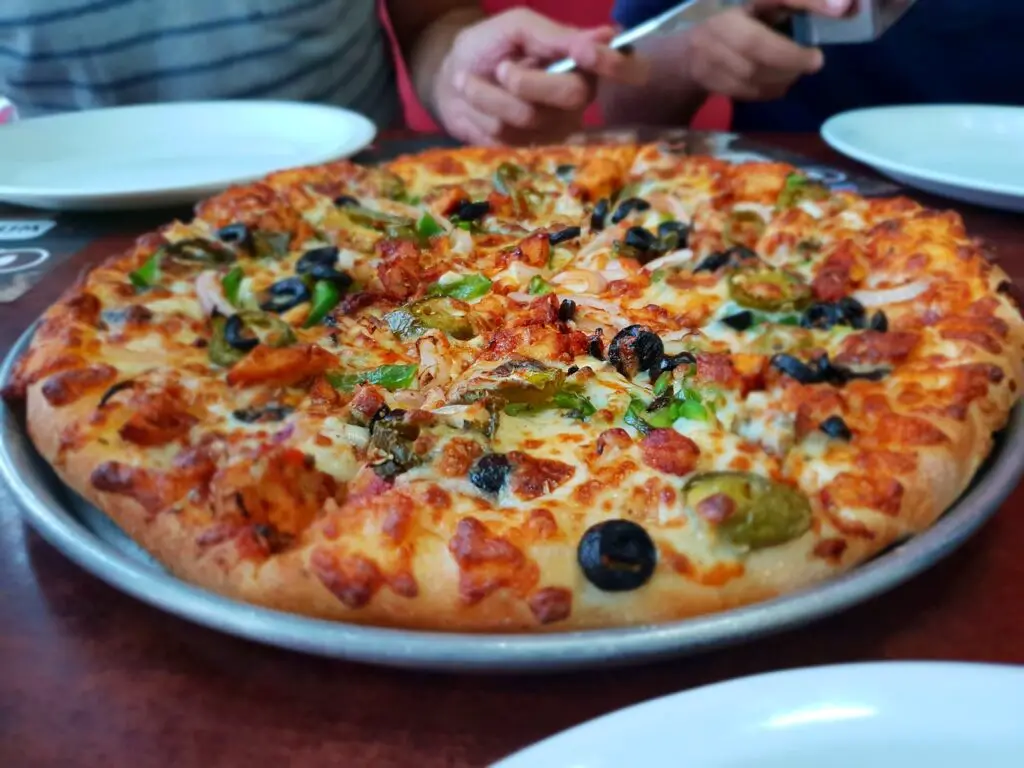 The 5 Best Stainless Steel Pizza Pans on the Market
Your pizza pan should be safe for cooking, well-constructed, and conveniently designed. All the options in my list fulfill those conditions; check them out here.
1. WEZVIX Stainless Steel Pizza Pan
The Wezvix pizza pan is highly safe for cooking, thanks to its high-quality construction. It's made of 18/8 stainless steel that's free of chemical substances, and it doesn't have any toxic coating. Despite that, the pan comes at a relatively affordable price.
The heavy-gauge stainless steel frame makes sure the heat gets evenly distributed, so your pizza turns out perfect. On top of that, the pizza won't stick, thanks to the brushed finish. This means you'll have a nice meal and you won't have a lot of cleaning to do afterward.
Even if something sticks, the Wezfix pan is pretty easy to clean and dishwasher-safe for your convenience. If you don't have a dishwasher, you can hand-wash it in a few minutes.
The pan has a smooth rolled edge, so you can have a comfortable grip without slipping. This feature is also useful because the pizza crust won't spill out. Furthermore, you can get a single pan or get a bundle of threes or fours for a lower price.
The only major downside to this pan is the low height. It'll make perfect thin pizzas, but if you're a fan of thick dough, it may not be the one for you.
Pros
Non-stick surface
Pure stainless steel without toxic elements
Sloped edge to avoid spilling the crust over
Cons
Low edge only allows for thin pizzas.
2. P&P CHEF 10-Inch Stainless Steel Pizza Pan
The Stainless steel pizza pan from P&P uses top-tier stainless steel that doesn't have an aluminum coating or any toxic materials. It's highly durable, so you can trust your pan to stay intact for years without showing any signs of wear and tear.
The pan is safe for dishwashers, saving you time and effort when it's time to clean. Additionally, it fits in most average house ovens. Its height may be a bit low for some users, but it makes excellent thin pizza.
The material doesn't stick, thanks to the brushed finish, so your pizza will come out without a hitch. Additionally, the edge is a bit sloped to accommodate the pizza's crust without letting it spill over.
After you're done with the pizza, you can use the P&P pan to make pies, bake cookies, and serve different kinds of food.
Pros
Highly affordable price
The brushed surface is easy to clean
Non-stick surface
Cons
The edge is a bit lower than what some users prefer.
When it comes to kitchen products, I go for Cuisinart without a second thought. The company has been around long enough to understand the user's needs and deliver them.
The Cuisinart stainless steel pan has a different construction from the other options on my list. It features a perforated surface that distributes heat evenly and results in a crispy crust. On top of that, the surface is non-stick, so you can easily take the pizza out without a hitch.
The pan is not scratch resistant. Therefore, one should not slice the pizza while it is still in it. It's better to take it out using a silicone spatula and slice it on any other surface.
The pan has a 14-inch diameter, which is enough to make pizza for the whole family. Alternatively, you can use it for baking pies or pie cookies.
The Cuisinart pan sports seasoned edges that prevent the crust from spilling over the surface and resists warping. Besides, it's safe for dishwashers, so you don't have to hand-wash it, saving you time and effort.
Cuisinart issues a lifetime warranty with the pan, which is a bonus. It's already pretty affordable, contrary to most of Cuisinart's products, so it's a nice option to have.
Pros
Highly affordable price
Dishwasher safe for easy cleaning
Rolled edge for a comfortable grip
Cons
The perforated surface drops some crusts if you attempt to cut the pizza.
4. USA Pan Bakeware Aluminized Steel Pizza Pan
The USA pan is one of the most convenient stainless steel pizza pans on the market. It has a corrugated surface that prevents the pizza from sticking and makes it easy for you to remove it for cutting. Plus, the heat circulates more evenly. Not to mention, it resists warping, so your pan stays usable for the longest time possible.
The pan is made of commercial-grade, heavy-gauge stainless steel that doesn't rust or show wear. It'll stay intact for as long as you intend to use it. It also has a coating layer of Americoat, a silicone that prevents sticking. It's free of BPA, PTFE, and PFOA.
The pan doesn't only work for pizza, but you can also use it to make baked goods, such as cookies and pies. It's not suitable for soft foods, though.
The 12-inch diameter stated by the manufacturer refers to the corrugated surface, but there's an additional smooth space to give you room for cutting.
Pros
Corrugated surface for more strength and better air circulation
Non-toxic silicone coating to avoid sticking
Highly durable, and it doesn't warp
Cons
5. RSVP International Stainless Steel Precision Pierced Pizza Pan
The best thing about the RSVP international pizza pan is the pair of handles on its sides. You don't need to hold the low stainless steel edge and risk being burnt anymore. That feature is not common to see, which says something about the convenience of this one.
Aside from the handles, you probably noticed that the pan has a perforated construction. This improves air circulation, so the pizza gets evenly cooks. It also prevents the pizza from sticking to the surface, but I wouldn't depend on that. It's always better to use a non-stick coating before laying your dough—just to make sure.
The RSVP pan is safe for dishwashers, meaning you won't spend much time cleaning it after you're done. It's also moderately priced, compared to competitors.
The interior diameter of the pan measures 11.25 inches, which is enough for a large-sized pizza. You can also use the pan for grilling and baking different foods.
Pros
Handles included for an easier grip
Perforated surface to result in a crispy crust
Efficient non-stick coating
Cons
It's hard to cut the pizza while it's in the pan.
The Best Brands for Stainless Steel Pizza Pans
There are dozens of brands that make stainless steel pizza pans, but only a few are worthy of being called 'the best.' Here's a roundup of the three best brands for pizza pans.
Cuisinart
Cuisinart has been leading the kitchen industry for ages, so it's no wonder it makes some sturdy pizza pans. The company manufactures everything kitchen-related, starting from pans and all the way to full-fledged professional ovens with advanced features.
Cuisinart's products are usually on the expensive side of the market, but the pizza pans come at reasonable prices. I wouldn't hesitate to buy the stainless steel one I reviewed above.
USA PAN
USA pan is the king of pizza pans—it's obvious from the name! The reputable brand is known for its sturdy cookware for home use, and it's been among the market leaders for more than 60 years.
USA PAN makes cookware and bakeware specifically for home use, so you're guaranteed to find what you're looking for in their products.
RSVP International
If you're looking for innovative cookware for your modern lifestyle, RSVP International is the company to visit. It makes all products you may need in your kitchen, starting from utensils and all the way to kitchen appliances.
If you want to buy all the equipment you'll need for your pizza, including the cutters, I'd go for RSVP.
The Final Verdict
My favorite stainless steel pizza pan out of the options above is undoubtedly the Cuisinart Chef's Classic Stainless Steel Pan. It's conveniently designed to make a large pizza with a moderate thickness. Plus, its stainless steel construction is free of any harmful materials or aluminum coatings, which can be toxic for some foods.
Not to mention, the pan's corrugated surface helps make a crispy crust and improves air circulation for even distribution of heat. The pan's price tag is also affordable for most users, making it a sought-after option.